US Consumers Can't Lose The Spending Bug
Strong June US retail sales suggests no let up in the appetite of consumers to spend on physical things despite the economic re-opening providing a broadening range of options, such as leisure and hospitality. With finances in great shape and incomes continuing to rise the outlook for spending is excellent.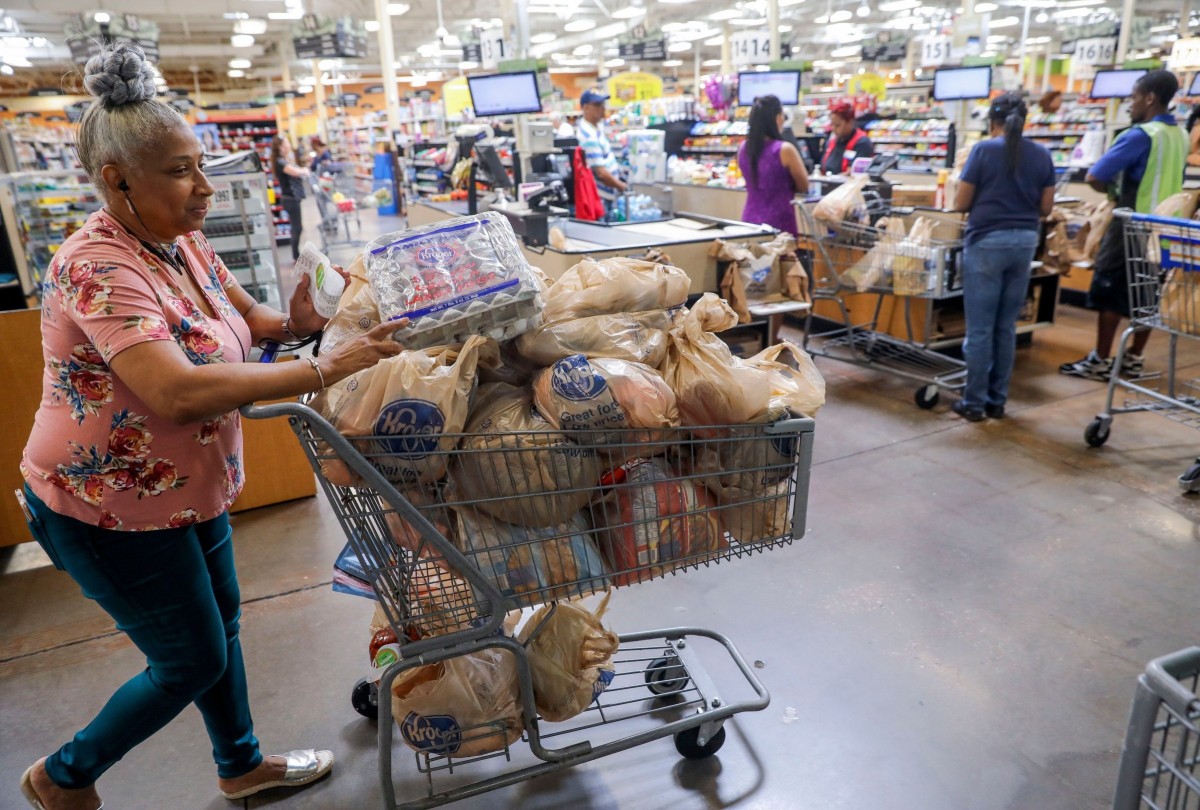 Spending surprises despite downward revisions
US retail sales rose 0.6% month-on-month in June, a much better outcome than the 0.4% fall the surveys of economists were pointing to. There were downward revisions to May's growth figure (-1.7% versus the -1.3% rate initially reported), but June's better growth more than offsets this.
Vehicle sales were a drag, but not by as much as feared. They declined 2% MoM in value terms, which seems a little odd given unit sales of 15.4mn versus 17.0mn in May. The price rises reported in the CPI release were not enough to offset that so there could be some downward revision potential further down the line. Nonetheless, it is important to remember that softness in auto sales is because of the lack of available vehicles to buy given production/supply chain issues, rather than weak demand. The 45% year-on-year increase in used car prices is a testament to this.
The appetite to keep spending was clearly seen in other components with sales excluding vehicles rising 1.3% versus expectations of a 0.4% gain. May's growth figure was revised down by two-tenths of a percentage point, but today's report is clearly still a positive surprise. Electronics rose 3.3%, clothing was up 2.5%, eating and drinking out was up 2.3%, miscellaneous was up 3.4% and general merchandise was up 3.4%. On the negative side building, material sales fell 1.6%, furniture fell 3.6% and sporting goods dropped 1.7%. As can be seen below, all of the major components are above pre-pandemic levels of spending.
US retail sales component spending levels (February 2020 = 100)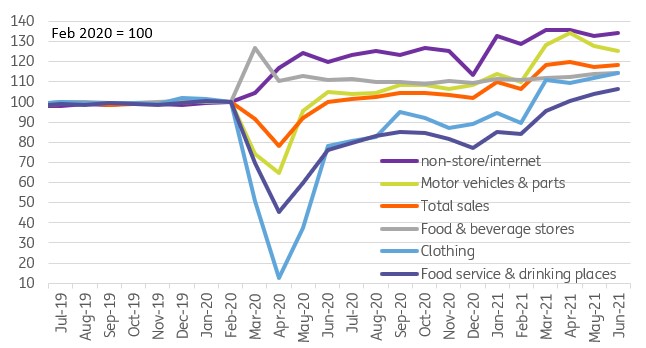 Source: Macrobond, ING
Strong foundations for further growth
Disclaimer: This publication has been prepared by the Economic and Financial Analysis Division of ING Bank N.V. ("ING") solely for information purposes without regard to any ...
more