UMich Consumer Confidence Surges In Early December Read
Having extended its bounce in November, UMich confidence survey was expected to rise modestly more in preliminary December data, but instead, it soared (printing 99.2 vs 96.8 prior and well above the 97.0 expectation).
The components both rose for the 4th month in a row...
Current economic conditions index rose to 115.2 vs. 111.6 last month.
Expectations index rose to 88.9 vs. 87.3 last month.
(Click on image to enlarge)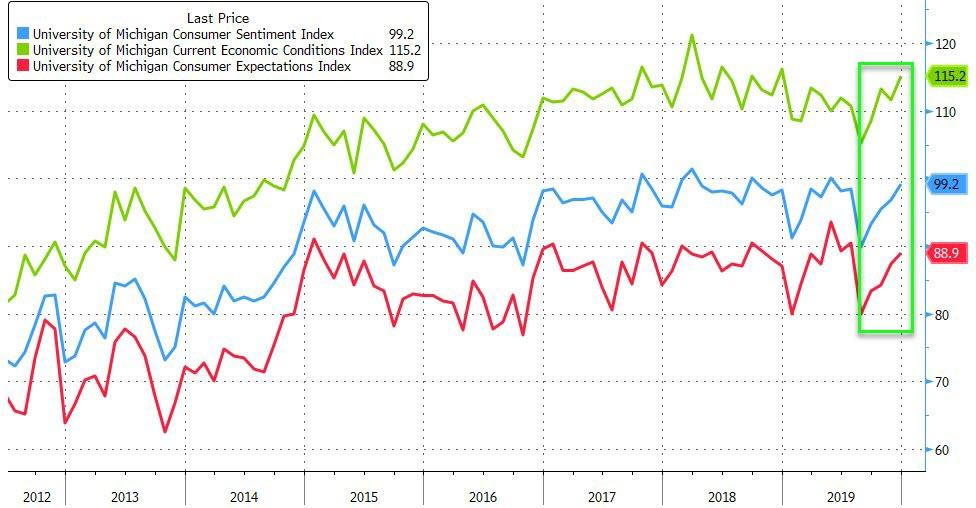 Source: Bloomberg
Nearly all of the early December gain was among upper-income households, who also reported near-record gains in household wealth, largely due to increased stock prices and mainly benefitting retirement accounts.
Buying conditions soared across all aspects with Vehicles surging the most (durables rose to their highest level since last December)...
(Click on image to enlarge)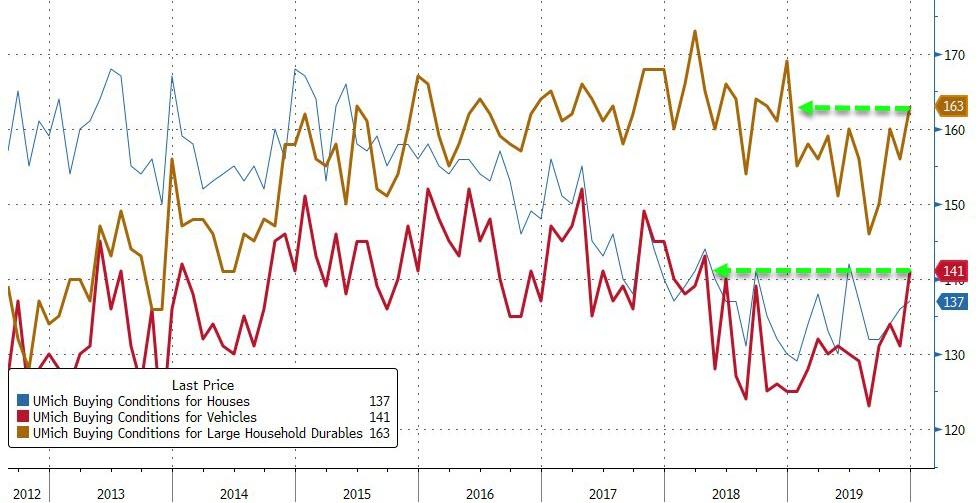 Source: Bloomberg
Finally, the data indicate the strong impact of partisanship on economic expectations, which has widened in the past few months.
(Click on image to enlarge)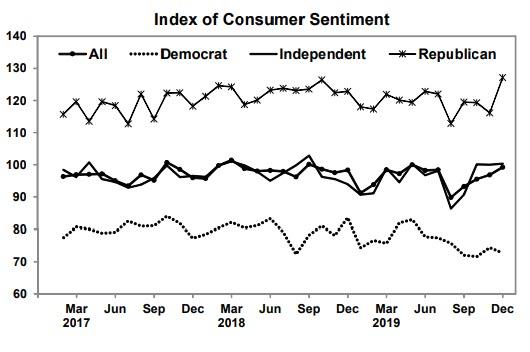 Source: Bloomberg
Moreover, the gap has grown considerably in the past decade. The average gap between Democrats and Republicans was 18.7 points in the Obama administration and 41.6 points since Trump took office, with the more favorable views held by the President's party. Importantly, the views of Independents closely track the overall Sentiment Index since Trump took office, with a mean of 96.6 versus 97.0 for all consumers.
The Sentiment Index has averaged 97.0 in the past three years, the highest sustained level since the all-time record in the Clinton administration.
Disclosure: Copyright ©2009-2019 ZeroHedge.com/ABC Media, LTD; All Rights Reserved. Zero Hedge is intended for Mature Audiences. Familiarize yourself with our legal and use policies every ...
more