I think it's a bit premature to do that, to say the least.
Structural Imbalance
I don't have the statistics at my command, but I can say anecdotally that there simply haven't been enough houses built to keep up with population growth in the last ten years. The shortage is particularly problematic in multifamily housing.
It will be a good 3–5 years before we achieve equilibrium again. Until then, prices will rise.
And rising they are. Here's a chart of total home equity in housing, going back to the last housing bubble and beyond.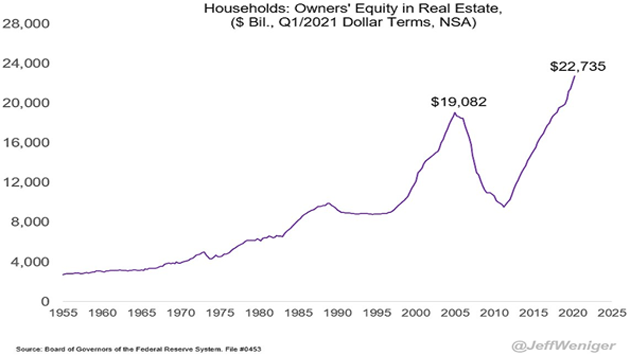 Source: @jeffweniger
It's been a long time since we talked about wealth effects from home equity, but we're going to see them once again.
We didn't have Zillow the last time around. Now we do, and it's very easy for people to pull up a ballpark estimate of the value of their home… And then go out and buy a TV the size of a parking space.
Interest rates are low and may go higher, but not by much. A few months ago, when tens were teasing 1.80%, we were having open discussions about yield curve control out of the Fed. That proved to be the top in yields.
Rates may rise, but I'm skeptical that mortgage rates will move meaningfully above 4% (at least in the next couple of years). Even a 100-basis point move in mortgage rates wouldn't be enough to slow down demand.
Meanwhile, Fed money printing (or whatever you want to call it) has set off a commodity boom and an increase in the price of virtually all the raw materials that go into making a house.
If houses cost more to make, they will cost more to sell, or the builders will experience margin compression. I am in the process of building a house, so I know all about this.
In order to experience a meaningful correction in housing, it has to become unaffordable. And with mortgage rates below 3%, we have a long way to go—housing is still very affordable.
High prices are the cure for high prices. And there is no sign that banks are loosening their underwriting standards…yet.
Disclaimer: The Mauldin Economics website, Yield Shark, Thoughts from the Frontline, Patrick Cox's Tech Digest, Outside the Box, Over My Shoulder, World Money Analyst, Street Freak, Just One ...
more