Crypto Investors Are Spending Millions Buying NFTs On Virtual Real Estate
With the invention of non-fungible tokens during the midst of an insane real estate boom fueled by the Fed's ongoing coke-bender of a stimulus package, it was only natural that crypto "investors" would start buying up virtual real estate.
In the virtual world, now being called the "metaverse", people aren't just spending $69 million for digital art, like Vignesh Sundaresan recently did. They are also spending on "land, buildings, avatars and even names" as NFTs, Reuters reported.
Sundaresan counts himself among the world's biggest NFT investors, amassing a $189 million fund of NFTs and digital assets.
Anand Venkateswaran, aka Twobadour, who runs the Metapurse fund, said: "The current Cambrian explosion of NFTs that you see is all about acquisition – people want to buy up NFTs, gobble as many of them as they can. But it's just the tip of the iceberg. The real explosion will happen when they're able to ... experience these NFTs as they were intended. If it's a plot of virtual land, you ought to move around in it, have an immersive experience in it."
Corporations are starting to join the party, as well. For example, Atari said it's going to be launching its own blockchain-based virtual world. Frederic Chesnais, head of Atari's blockchain division and the company's former CEO, told Reuters online environments would be "very very big". NFT real estate could fetch millions eventually, he said.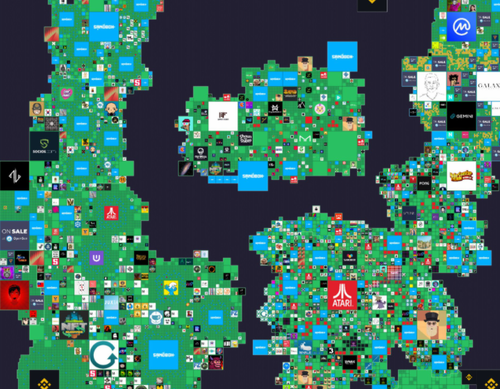 The most well known blockchain-based environments are Decentraland, Cryptovoxels, Somnium Space and The Sandbox. Decentraland sports $50 million in total sales, and has sold patches of "land" for as much as $572,000 and $283,567. There were 334 buyers in March in Decentraland and monthly sales volumes blew past $4 million, up from $767,000 in February.
The "rush" is being compared to the early days of snapping up domain names.
Disclaimer: Copyright ©2009-2021 ZeroHedge.com/ABC Media, LTD; All Rights Reserved. Zero Hedge is intended for Mature Audiences. Familiarize yourself with our legal and use policies every time ...
more