Top 3 Price Prediction Bitcoin, Ethereum, Ripple: Market Points To A Twist In The Road
The European Union will provide strict regulation of the role of stable currencies at the request of five important club members. Germany, France, Italy, the Netherlands and Spain have urgently requested that the European Commission establish a rigid regulation on digital coins anchored to fiat coins.
With a focus on Facebook's Libra project, the petition submitted by the states mentioned above calls for legislation to safeguard the power of the European Central Bank as a guarantor of monetary control.
With arguments such as "prevention of money laundering" or "use in illicit activities", European legislators demand to ban the implementation of stable digital currencies until a community legislative framework is approved.
According to Reuters, German Finance Minister Olaf Scholz has stated that "we agree that it is our task to maintain stability in the financial market and to ensure that what is the task of the states remains the task of the states".
From the technical point of view, the chart of Bitcoin's dominance continues to show a favorable structure for Bitcoin to regain market share. The proximity of the price to the base of the bearish channel and the divergent congestion structure in the MACD point in that direction.
(Click on image to enlarge)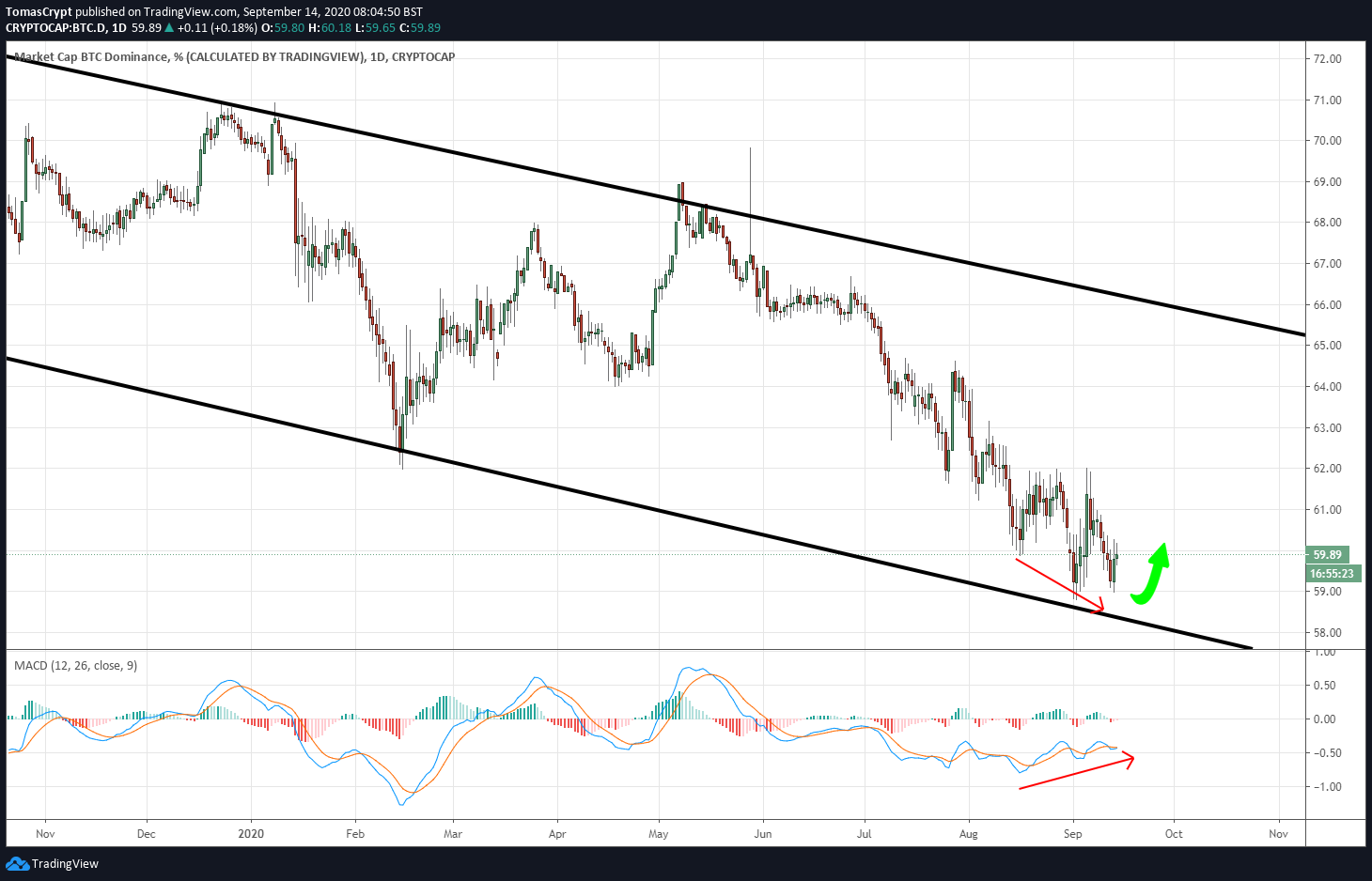 The members of the Top 3 respect the tradition and remain numb the momentum of the market as they approach a decisive moment.
Technical indicators have been slowly moving towards the critical moment that shows the way forward for the price for the next trading sessions.
Both the MACD indicator and the composite indicator of trend forces DMI (Directional Movement Index) present stressed structures.
ETH/BTC Daily Chart
The ETH/BTC pair is currently trading at 0.0354 and remains within the range of recent weeks. Technical indicators are showing strong divergences with the price, as I explain in the section below.
Above the current price, the first resistance level is at 0.0372, then the second at 0.040 and the third one at 0.0414.
Disclosure: Information on this article contains forward-looking statements that involve risks and uncertainties. Markets and instruments profiled on this page are for informational purposes ...
more