The Stock Market Is Bearish On The Economy
The Fed's Beige Book said the economy grew at a "slight to modest" pace. That's ironic because expectations are for very high GDP growth in Q3, but that's only because of an easy comp. The Atlanta Fed Nowcast predicts 35.3% Q3 growth. The Fed is likely cautious in its assessment of the economy because any positive comments can be viewed as hawkish. The last thing the Fed wants is for markets to think it is taking its foot off the gas pedal. The Fed is going full speed ahead with zero rates. It doesn't plan on hiking rates in the next few years. However, we really have no idea what 2021 holds.
Generally, downside surprises like COVID-19 are more likely to cause cuts than upside surprises are to cause hikes. That being said, we never had the economy going from partially shut down to fully opened. Yields would spike and demand for services would increase substantially assuming there is an all-clear sign. Of course, it's possible the re-opening is gradual because some people are still nervous or that it takes time to get people vaccinated.
(Click on image to enlarge)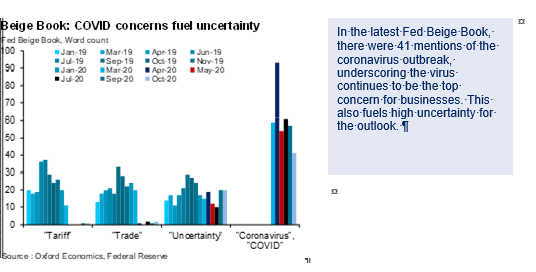 The October Beige Book activity index created by Oxford Economics rose from 0.89 to 1.11 after hitting a record low of -2 in March. The index isn't back to where it was before the pandemic, but it's close. That sounds more optimistic than how the economy is actually doing. As you can see from the chart above, the virus was mentioned much fewer times in October than in September even though cases are increasing in the Midwest. This doesn't imply that the Fed is taking COVID-19 lightly, it just shows how word counts aren't everything.
The Fed doesn't mention tariffs anymore because that's not the focus. Stimulus talks are acting like a carrot and stick bait for the stock market just like trade talks were. In 2018, we would see talks boosting stocks without a grand deal ever happening. However, in this case, we will get a stimulus. It just isn't happening before the election. There is a political calculus being made where either one or both sides think it's better for their election chances if nothing gets done.
Disclaimer: The content on this site is for general informational and entertainment purposes only and should not be construed as financial advice. You agree that any decision you make will be ...
more