The Oversold Chronicles End As A Fed-Inspired Stock Market Explodes Higher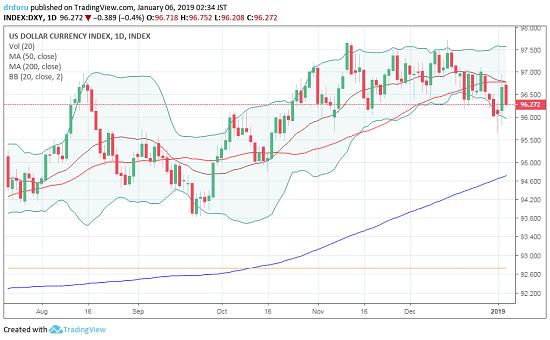 The U.S. dollar index (DXY) is slowly breaking down as it churns below its 50DMA
Source: TradingView.com
This currency action is convincing me to shift my bias from bullish to bearish on the U.S. dollar (without getting bullish on the euro though!). The dollar's decline did not come with lower long-term rates. The iShares 20+ Year Treasury Bond ETF (TLT) gapped down and lost 1.2%, likely from a combination of a reduction in the fear that drove traders to the "safety" of U.S. Treasury bills and the strong December jobs report that allayed some fears of imminent economic weakness. I took profits on a tranche of TLT puts I purchased the previous day as TLT stretched far above its upper Bollinger Band (BB). This TLT fade is a new strategy I added to the toolkit for this interesting period where U.S. economic data can still deliver good news even as the fear trade drives TLT higher.
Looking back on all this Fed-driven drama, I now wonder whether this episode was just another experiment very similar to the "Taper Tantrum" where the Fed first floated the idea of getting started with monetary tightening. The market's reaction was so negative that the Fed soon had to dial back its language and soothe financial markets. The reaction to Yellen's first rate hike was also very negative and, once again, the Fed had to coo the market out of its panic. So here we are again. Powell flirted with outright hawkishness including floating the idea of putting tightening on a near automatic schedule, observed the market's deeply panicked response, and is now working to calm the markets. The stakes are high given China's economic weakness and U.S. economic numbers that are so strong they are unlikely to get much better from here.
Trading Discussion
Friday was of course a big up day for the oversold trading strategy and the kind of validation I always enjoy. If the oversold period had not dragged on so long, I would have held onto more long positions. Instead, I actively took profits. I was relieved to see that I was not over-hedged, and of course I pushed forward on fresh hedges (see below). For good measure, I added a calendar put spread on Adobe (ADBE) which is still negative post-earnings. I salvaged residual value on SPY call options that I just mistimed from the previous week. I restarted my secular bet against Walgreens Boots Alliance (WBA) with a short right at 200DMA resistance. I anticipate avoiding opening new bullish bets on Monday as I await confirmation of the end of this latest oversold period (see below for the Apple exception). I kept the short-term trading call at bullish.
CHART REVIEWS
Amazon.com (AMZN)
It is always amazing to see a stock as large as AMZN move in big chunks. AMZN gained 5.0% and challenged 50DMA resistance. AMZN is up an incredible 17.2% from its Christmas Eve low. I have been playing AMZN from the (net) long side given it was one of the few stocks printing a clear bottoming pattern during those depths of the oversold period.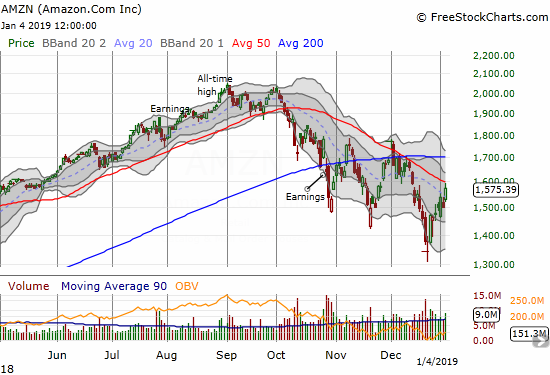 Amazon.com (AMZN) gained 5.0% after pulling back slightly from downtrending 50DMA resistance.
Chipotle Mexican Grill (CMG)
Several stocks have made impressive V-like bottoms from the Christmas Eve lows. CMG is 17.9% off its low. Unlike AMZN, I somehow managed to miss this entire move. Having said that, I think the area between the 50DMA and the recent highs should present very stiff resistance.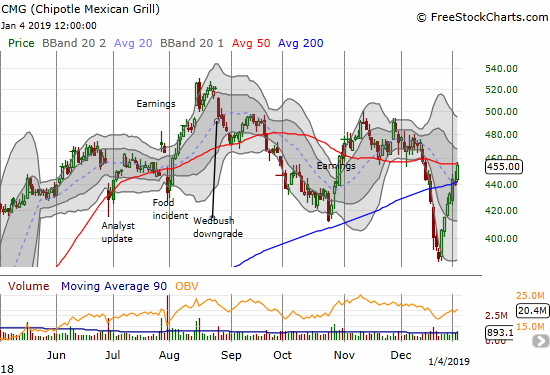 Chipotle Mexican Grill (CMG) confirmed its 200DMA breakout with a 3.5% gain but closed just under 50DMA resistance.
Apple (AAPL)
AAPL is already moving for redemption after helping to lead the market lower on Thursday with its big revenue warning. I neglected to buy call options for the weekly play. In this case, that purchase should have been Thursday or at Friday's open. I was too focused on the bearish implications of Apple's news. I will buy some weekly calls if AAPL dips on Monday.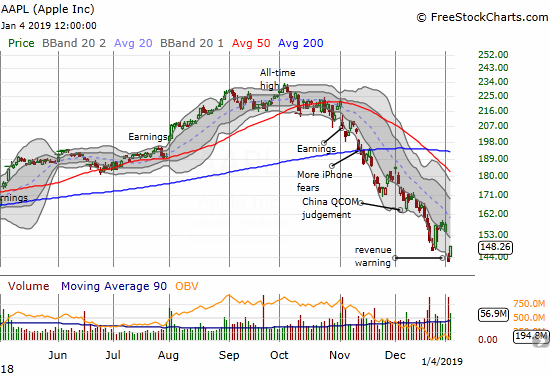 Apple (AAPL) gapped up and kept powering higher for a 4.3% gain.
Bitauto (BITA)
BITA looked bullish for just a hot minute. The subsequent nosedive was a great reminder of the importance of follow-through to confirm a trade setup. BITA is below its downtrending 200DMA again and is no longer a buy. Aggressive traders could still go in with a stop below the 50DMA.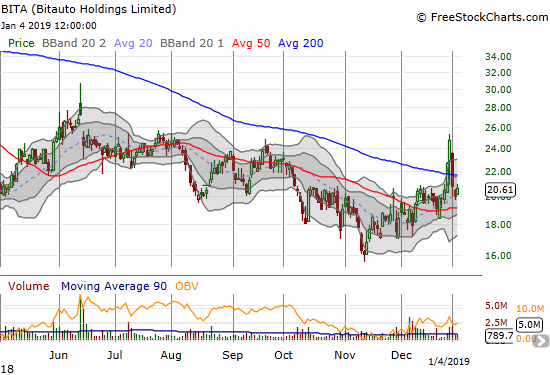 Bitauto (BITA) gained 3.1% in an attempt to stabilize at uptrending 20DMA support.
Netflix (NFLX)
The days of buying NFLX puts as a hedge against bullish positions came to a temporary end after Goldman Sachs (GS) added the stock to its conviction buy list (I have a "residual" put left from a calendar put spread – the short side expired on Friday). The timing was perfect for NFLX given the market's explosive day. NFLX made a very bullish move on Friday as it broke out above its 50DMA resistance which also defined its current downtrend. The stock gained 9.7%, closed at its high of the day, and stood tall above its upper Bollinger Band (BB). I will not dare to touch it again until/unless it closes below its 50DMA again and/or it tests 200DMA resistance.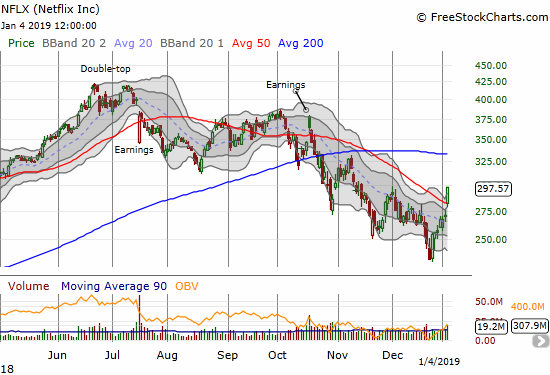 Netflix (NFLX) soared 9.7% on a picture-perfect breakout above its 50DMA and a close above its upper Bollinger Band.
This fantastic Saturday Night Live (SNL) skit summarizes the longer-term bearish case on NFLX: too much spending on too much content for small/niche audiences.
Disclosure: Long SSO, long AUD/JPY, net short U.S. dollar, long AMZN call spread, long BBY puts, long CAT puts, long GS put, long NFLX put, long INTC calls, net long AAPL shares, long ITB calls, long ...
more