The Move To The 'Burbs
Ask any realtor you know, this is real and it is happening faster than people think. At the end of the day, people want safety, food, and shelter. If any of those three are missing, nothing else really matters. Governors and Mayors who allowed continued violence and destruction on a continuous basis for the last 6-7 months are finding this out the hard way. Rents are collapsing and vacancies rising in cities and the beneficiaries of this are single-family home builders and the 'burbs.
The long-term effects of this will be very bad as the discrepancies that have been present in cities for decades are now going to get worse. Add to this the job destruction that is taking place in cities and we have a potential recipe for a significant worsening of conditions in them.
"Davidson" submits:
This chart shows Total Housing Starts, Total and Single Family Starts vs US Population.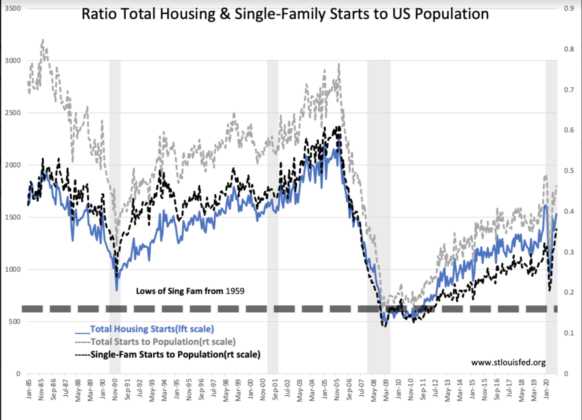 Shown isolated and vs population size provides the perspective of an absolute measure vs a measure within the context of demand by the population. Multi-Family are apartment buildings used by most of the population. The surge in Single-Family Starts leading up to the Sub-Prime Crisis in 2008 reflected a period of lower underwriting standards. The Starts correction in 2008-2009 was the result of sharply tightening standards and an excess of housing to be worked off from the previous housing cycle which had become speculative prior to the crisis.
The chart of Percent of Multi to Single-Family Starts reflects Multi-Family Starts 35%-45% range since 2010 falling below 30% in recent months. The 20% level in this chart represents a Multi-Family/Single Family Starts ratio of 20% reflecting the same level of demand shown in the late 1960s, 1975-1976 and for a good period of the 1995-2007 period. Every period was one of investor speculation which did not end well. The current surge is due to COVID-19 fears and an upsurge in urban violence causing a shift to the suburbs.
The information in this blog post represents my own opinions and does not contain a recommendation for any particular security or investment. I or my affiliates may hold positions or other interests ...
more