The Highest Yield Left In The Market
If you're looking for income these days, your options are a little limited. The S&P 500 yields less than 2%, which is bordering on pitiful, and government bonds aren't much better.
REITs, as a sector, are reasonably high yielders at 3.9%. But in order to get the yields, I like to see, you really have to cherry pick. You're not paying many bills with a 3.9% payout.
Corporate bonds?
Meh. Investment grade bonds yield 4.4%, and "high-yield" junk bonds yield only slightly better at 5.2%. Sure, that's better than Treasury yields. But hardly worth the risk. At the first whiff of an economic slowdown, junk bond default rates tend to jump.
Preferred stock still sports a respectable yield, which is why I added exposure last month in my income service Peak Income, as do emerging market bonds for those with the stomach for the volatility.
But frankly, there's only one asset class right now that sports what I would consider to be a truly impressive yield, and that is oil and gas master limited partnerships (MLPs). The Alerian MLP index, which you can think of as "the S&P 500 of MLPs," yields over 8%.
(Click on image to enlarge)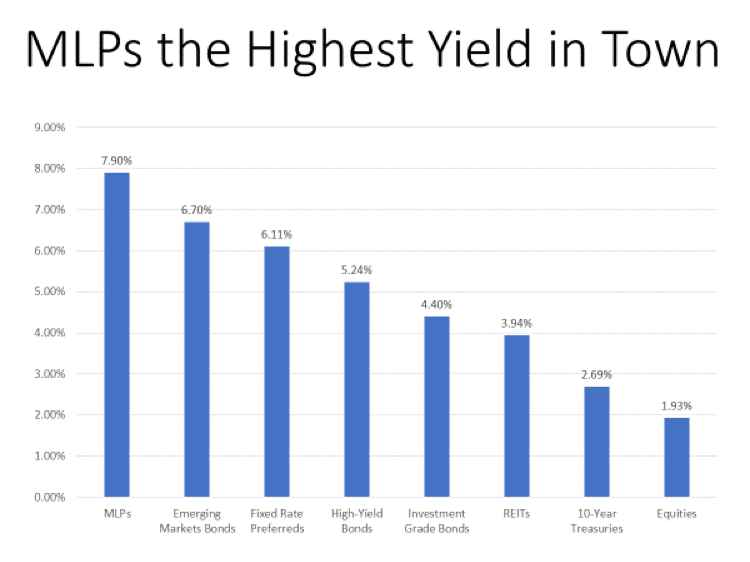 I know of no other sector where those kinds of yields are possible without taking substantially more risk. (Business development companies, or BDCs, offer comparable or higher yields, but I consider them a little riskier at this stage of the business cycle.)
Too Good to Be True?
Call me a cynic, but when I see yields that high compared to virtually everything else, I want to know why. There has to be a catch, right?
Well, there is and there isn't.
Yields are high in part due to rising payouts over the past few years. But the far bigger reason is the total collapse in MLP share prices since late 2014. After years of gains, the sector hit a rough patch when the price of crude oil started to fall, and before the dust settled the Alerian MLP index has dropped by about 60%.
Disclaimer: This material is provided for informational purposes only, as of the date hereof, and is subject to change without notice. This material may not be suitable for all investors and is not ...
more