The Economic Outlook – WSJ December Survey
No acceleration in growth rates, and short term growth prospects dim, but GDP level higher relative to October — but not November — survey.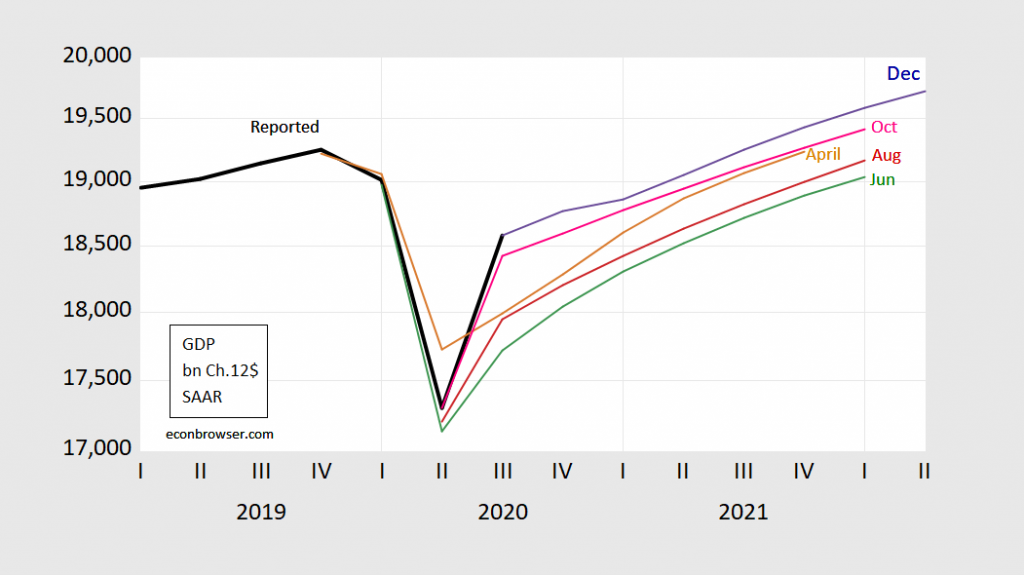 Figure 1: GDP as reported in 2020Q3 2nd release (black), WSJ April survey (tan), June survey (green), August survey (red), October survey (pink), December survey (blue), all in billions Ch.2012$, SAAR, all on log scale. Source: BEA, various vintages, WSJ survey, various vintages, author's calculations.
Note that while the implied projected level of GDP is higher in the December survey relative to October, this is not because growth prospects have brightened going forward. Rather, it's because Q3 growth outperformed the 28.5% growth (SAAR) in the mean October survey (results discussed in this post).
Figure 2 shows the mean GDP forecast, and the fastest forecasted growth (7.8%, from James Smith, yet again — I still want whatever pharmaceutical that guy takes!) and the slowest (1.9% from A.C. Cutts ) over the next four quarters (2020Q4-2021Q3).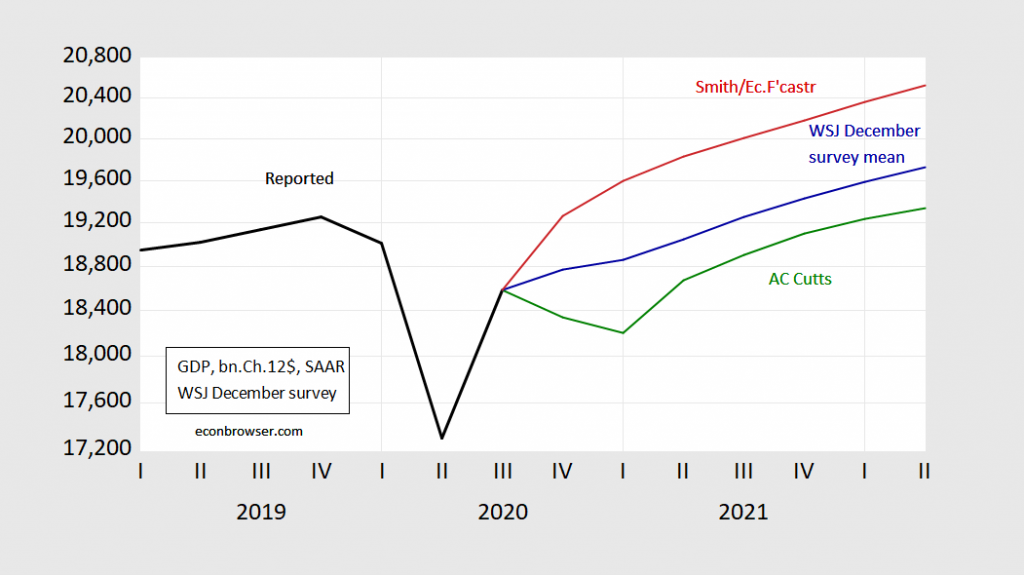 Figure 2: GDP as reported in 2020Q3 2nd release (black), James Smith/Economic Forecaster LLC (red), Amy Crew Cutts/A.C. Cutts & assoc.(green), all in billions Ch.2012$, SAAR, on log scale. Source: BEA, 2020Q3 nrd release, December WSJ survey, and author's calculations.
Smith predicts a "V" recovery. Seven out of 62 individuals forecasts a negative period of growth in the next two quarters (Amy Crew Cutts has two negative quarters). 57% of the forecasts incorporate a new fiscal package, likely in the new year.
The survey was taken between December 4-8.
Last month, I thought that with the fast-deteriorating Covid-19 situation (cases, hospitalizations, deaths all rising), Trump administration complete abdication of a public health response, and administration obstruction of a transition to the new administration, most of these forecasters were underestimating the likelihood of zero growth in 2020Q4 and into 2021Q1. Forecasters have markeddown of prospects, particularly in 2021Q1.