The Current Administration's Current Official Economic Forecast
Illustrated (red squares):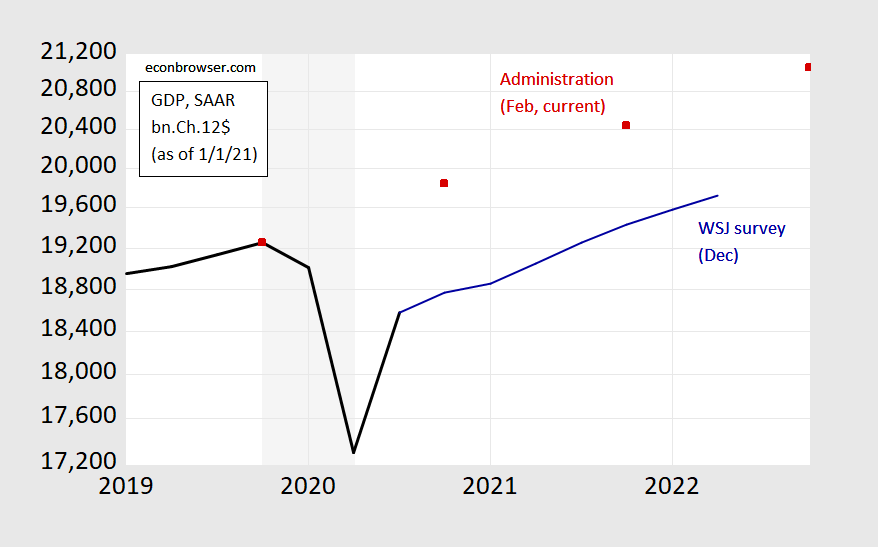 Figure 1: GDP as reported (black), Administration current forecast (red squares), and WSJ December survey mean (blue). Trough assumed to be 2020Q2. Source: BEA, OMB, WSJ, NBER, and author's calculations.
If you thought it odd that the Administration never revised its GDP forecast to account for...reality — you are not alone. It should have occurred during the Mid-Session Review, which is usually released in July. But you can see from the budget components released November 4th that the GDP forecast is identical to the February Budget forecast: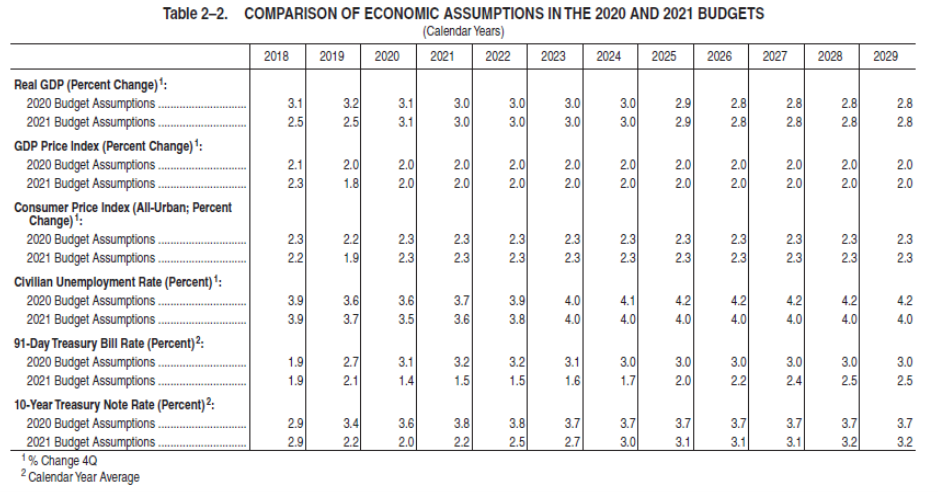 Source: OMB, FY2021 Mid-Session Review.
From Chapter 2 "Economic Assumptions and Overview" of the MSR:
"The American economy continues the longest expansion in its recorded history. The unemployment rate reached its deepest level in half a century. Prime-age labor force participation has hit decade highs. Real wages sustained their rise. Deregulation has removed over seven substantial regulations for each one added. The Tax Cut and Jobs Act (TCJA) expanded the capital base and encouraged multinational enterprises to repatriate nearly $1 trillion previously invested abroad.

"Discordant elements perturbed this harmonious expansion. The Federal Government's deficit swelled as large spending increases were approved. Poor performance in the global economy, industrial turmoil at flagship U.S. companies, and international trade uncertainty subdued business confidence, investment growth, and manufacturing output. In order for 2020 to extend the economic expansion of the past three years, continued implementation of the Administration's pro-growth agenda is imperative."
[Boldface added – MDC].
Disclosure: None.