The Big Win You Missed
My friend Jan Schalkwijk, CFA of JPS Global Investments just asked me if I had any thoughts on Kontrol Energy (KNR.CN, KNRLF), a Canadian smart building firm I had never heard of. (I just added it to AltEnergyStocks.com's Energy Efficiency and Smart Grid stock lists.)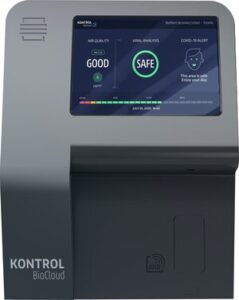 Kontrol BioCloud Sensor. (CNW Group/Kontrol Energy Corp.)
The stock had just shot up after the client sold and went on a kayaking trip. It had disclosed a sensor for detecting COVID-19 from the air.
While I didn't have anything to say about the company, I did have some thoughts on dealing with the emotions around missing out. Since it's general advice, I thought readers here might appreciate it as well:
Speaking of gains that she might have had, she should ask herself if she missed out on a lottery ticket or if she made a mistake. Every week, there is a lottery ticket that wins millions of dollars, but the wise investor does not play the lottery. If the situation with Kontrol was one that she would never have anticipated, then it was simply a lottery ticket that she did not win… a lucky break for someone else, but not something to take personally.
If, on the other hand, it was something she could have anticipated if she had decided not to go kayaking, she should ask herself about her life choices. Does she want to be a person who never takes a vacation and constantly watches the stock market in the hopes of someday getting a big win, or does she want to be a person who sometimes takes a break to maintain her mental health and relationships by reconnecting in the real world. If the latter, then missing out on the occasional big win is part of the price…. but it also means missing out on the occasional big loss. In this case it was a big win that didn't happen… but there might also have been a bunch of big losses on all the other stocks she might have been obsessing about.
Disclosure: No positions.
Disclaimer: Past performance is not a guarantee or a reliable indicator of future results. This article contains the current opinions of ...
more