The 6 Best Stocks To Trade Options On Now
Most investors know that options can boost returns with lower risk, but finding the best stocks to trade options on can be tricky.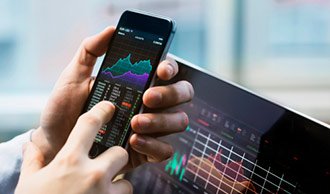 That's where we come in. We're options trading experts, and our mission here is to help investors and traders like you make money.
You see, not all stocks are good for options trading. In fact, not all stocks even have options in the first place. But for those that do, there are a few traits we look for in order to increase your odds for success.
First of all, you want the stock you're trading options on to be very liquid. That means it has to trade a couple hundred thousand shares a day, on average. Stocks that trade small amounts do not have sufficient supply and demand factors and usually have very inefficient pricing. What that means is the price you see may not be the price you get. Even worse, it may mean you can't sell when you're ready because there aren't enough buyers.
The quick way to check to see if your stock or option is liquid is to look at the bid-ask spread. If you see a wide range between prices, then it's a sign there aren't a lot of buyers and sellers. If the gap is just a few cents off, then you know the stock is trading hands often.
Next, you want to consider costs.
Some stocks are so popular, like Amazon.com Inc. (NASDAQ: AMZN), that their options also have very high prices. Remember, it is the low price of an option that gives it its profit power though leverage, so overpaying for the option undercuts your chance at making money.
That doesn't mean you can't trade options on these stocks, but you'll need to use a strategy like spreads to keep your costs under control.
Finally, you want stocks that will move in the direction you want them to. For the simplest options trades, this mean the stock is likely to go up or go down soon. Otherwise, if you buy a call option on a stock that stays flat, then you won't make any money.