That Advice To Women To 'Lean In', Be More Confident… It Doesn't Help, And Data Show It
That advice to women to 'lean in', be more confident... it doesn't help, and data show it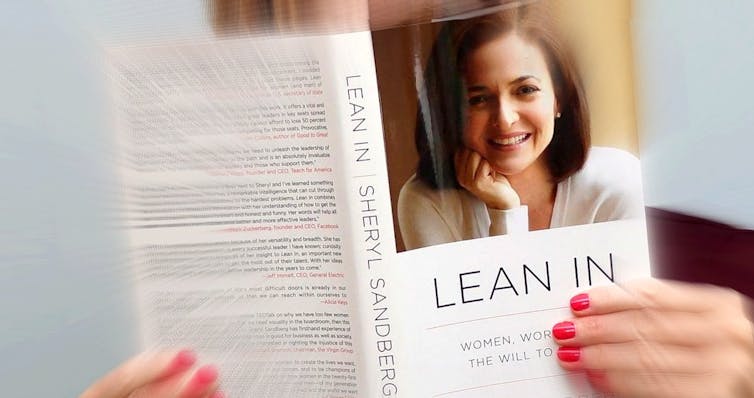 Lean In, by Sheryl Sandberg
Leonora Risse, Lecturer in Economics, RMIT University
"Just be more confident, be more ambitious, be more like a man."
These are the words of advice given over and over to women in a bid to close the career and earnings gaps between women and men.
From self-help books to confidence coaching, the message to "lean in" and show confidence in the workplace is pervasive, propelled by Facebook Executive Sheryl Sandberg through her worldwide Lean In movement:
Women are hindered by barriers that exist within ourselves. We hold ourselves back in ways both big and small, by lacking self-confidence, by not raising our hands, and by pulling back when we should be leaning in
The efforts are well intended, because women are persistently underrepresented in senior and leadership positions.
But where is the proof they work?
Repeated advice needn't be right
As a labour economist, and a recipient of such advice throughout my own career, I wanted to find out.
So I used Australian survey data to investigate the link between confidence and job promotion for both men and women. The results have just been published in the Australian Journal of Labour Economics.
The nationally-representative Household, Income and Labour Dynamics in Australia (HILDA) survey includes a measure of a person's confidence to take on a challenge.
The measure is called achievement motivation.
It is made up of hope for success which we measure by asking people how much they agree with statements such as
when confronted by a difficult problem, I prefer to start on it straight away

I like situations where I can find out how capable I am

I am attracted to tasks that allow me to test my abilities
And it is made up of fear of failure which is measured by a person's agreement with statements such as
This article is republished from The Conversation under a Creative Commons license.