Ten Clean Energy Stocks For 2019: What Caution Looks Like
So far, my worries about stock market valuation and political turmoil have not turned into the stock market downturn I've been warning readers to prepare for. In fact, September has been a particularly sunny month for both clean energy stocks and the stock market in general.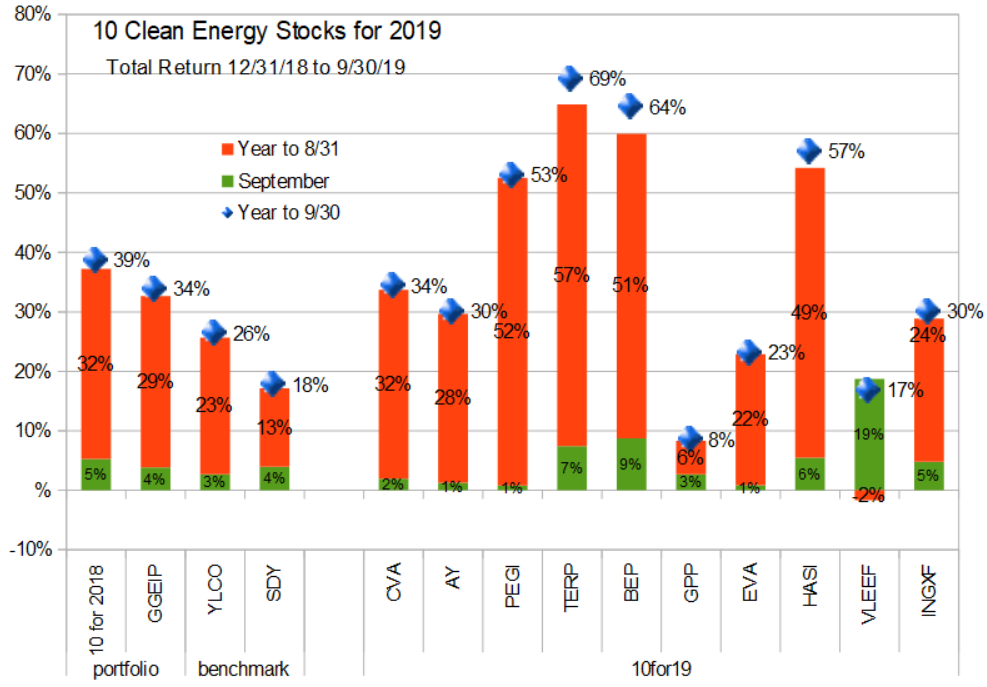 My broad income stock benchmark SDY was up 3.9% and the energy income stock benchmark YLCO rose 2.7% for the month, more than reversing August's declines. My 10 Clean Energy Stocks model portfolio accelerated upward by 5.3%, as did my real-money managed strategy, the Green Global Equity Income Portfolio (GGEIP), which added 3.8% to August gains.
I've been cautioning readers to take a more defensive stance towards the market all year. As I said last month, and as this month proves, that does not mean that the stock market's rise is over. It means that I believe the risks of a stock market decline outweigh the potential gains of staying fully invested.
To show readers what that looks like, consider the following graph comparing the monthly returns of my real-money strategy, GGEIP, with the returns of the full-invested 10 Clean Energy Stocks Model Portfolio.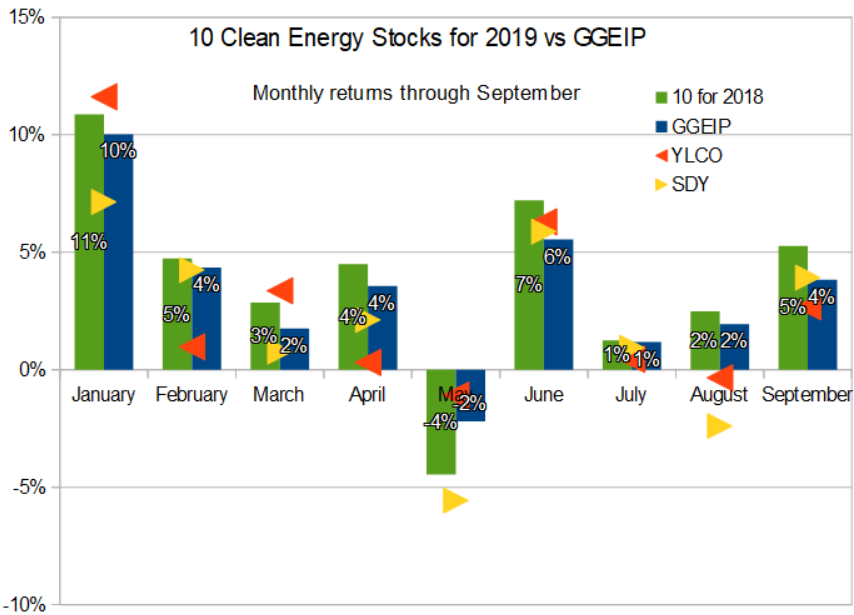 As you can see, GGEIP has lagged the 10 for 2019 model portfolio every month so far this year except one: May- the only down month. In the up months, GGEIP was gaining about nine-tenths as much as the model portfolio early in they year, while it has been gaining about three-quarters as much as the model portfolio in recent months. This is because I have been following my own advice, and lowering GGEIP's overall market exposure as the year progresses. The benefit can be seen in May: GGEIP lost only half as much as the model portfolio.
In short, GGEIP has roughly half the exposure to a market decline as the fully-invested model portfolio, but has still participated in 87% (33.7% vs 38.6%) of the total gains this year. I have achieved this asymmetric risk/reward exposure through a combination techniques:
Disclosure: Disclosure: Long PEGI, CVA, AY, TERP, BEP, EVA, GPP. INGXF, HASI, FR/PA/VLEEF
Disclaimer: Past performance is not a guarantee or a reliable indicator of ...
more