Social Media Networks Vow To Censor "Misinformation" About Coronavirus
But of course, as always, it goes further than that.

Last night, Zero Hedge was quickly suspended by Twitter.
I've written repeatedly that the best coverage I have seen of the coronavirus has been on Zero Hedge. They've done a lot of no-holds-barred reporting and broken numerous stories about the virus and its possible origins. They've been careful to be extremely clear about whether something is a question or a statement, and they cite numerous sources for their work.
They're also not afraid to be controversial.
And this got their account suspended from Twitter last evening.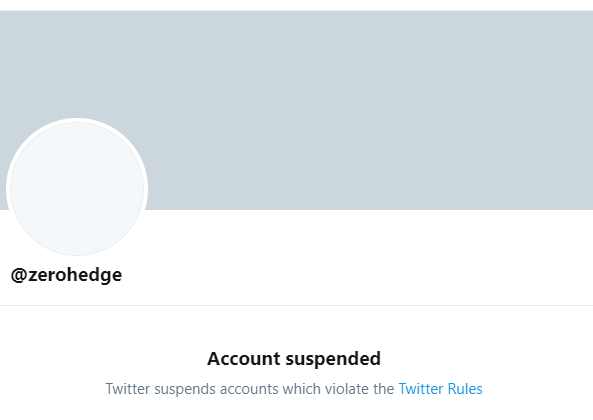 Shortly after they posted an article about the extremely unusual makeup of this particular coronavirus (based on a scientific study that called the makeup "unlikely to be fortuitous," their account was suspended. I immediately thought it was because of the article that suggested we could be dealing with a bioweapon, but according to Zero Hedge, it was something else entirely.
Twitter accused them of harassing a guy by posting his (already publicly posted) phone number and workplace. ZH reports:
What appears to have happened is that twitter received a complaint from the website best known for publishing the discredited Steele dossier when no other media outlet would touch it, and making cat slideshows of course, Buzzfeed, in which someone called Ryan Broderick writes that Zero Hedge "has released the personal information of a scientist from Wuhan, China, falsely accusing them of creating the coronavirus as a bioweapon, in a plot it said is the real-life version of the video game Resident Evil." (source)
By all means, Twitter should certainly take the word of someone who works for a site best known for quizzes to help you figure out what kind of potato you really are to delete a news organization's account.
It's also important to note that ZH didn't post anything personal that wasn't already publicly made available by the subject of the article himself.
…we did not release any "personal information": Peng Zhou (周鹏) is a public figure, and all the contact information that we presented was pulled from his publicly posted bio found on a website at the Wuhan Institute of Virology which anyone with access to the internet can pull from the following URL: http://sourcedb.whiov.cas.cn/zw/rck/201705/t20170505_4783973.html, which is also the information we used. (source)
Disclosure: Copyright ©2009-2020 ZeroHedge.com/ABC Media, LTD; All Rights Reserved. Zero Hedge is intended for Mature Audiences. Familiarize yourself with our legal and use policies every ...
more