Are Facebook And Google Missing The True Profit Potential Of Messaging Apps?
As a result of the features beyond messaging built into the apps, the engagement for these Asian apps are even higher than their US counterparts. The graph below shows the percentage of the apps users that opened the app on a daily basis.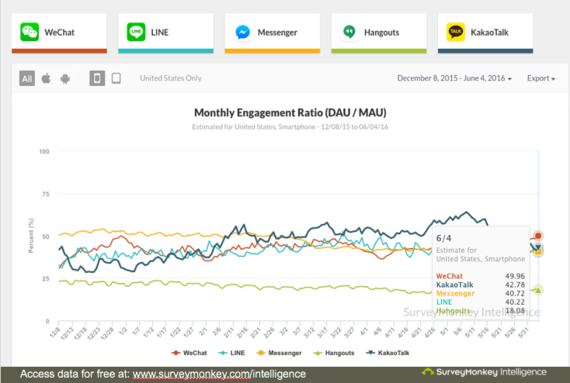 However, the real value in their engagement is their revenue which the Asian apps are actually earning from their apps while Messenger and Hangouts do not.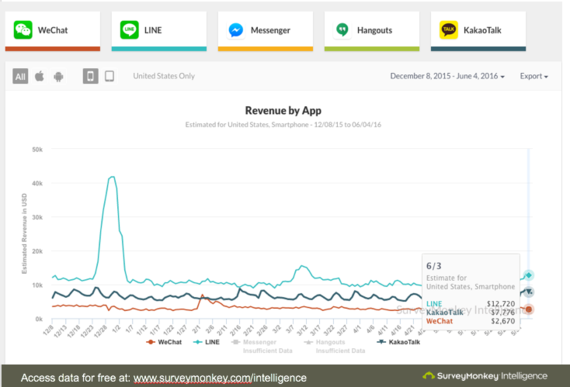 In the US these apps primarily drive revenue from the sale of stickers and enhanced messages with additional pictures; however, in Asia they do many interesting things which I will go through one by one.
WeChat
WeChat, owned by the Chinese Internet conglomerate Tencent (TCTZF) is one of the largest messaging apps in the world with 700 million monthly active users. Within WeChat users can message with videos, voice and text. Users can also send each other money or even pay utility bills. WeChat recently started charging users of its payment service (the ability to send funds to other users) which opened up a new revenue stream for them. WeChat's global average revenue per user is $7
QQ
Tencent also owns another messaging app called QQ which was originally a desktop app, but has now migrated to mobile and is available in English. QQ has 829 million monthly active users and monetizes by selling games. The most interesting feature of QQ is that it has a live translation option to allow people who don't speak the same language to converse.
Line
Line is owned by the Korean company NHN which also owns the most used search engine in Korea. Line was created after the Tohoku tsunami in Japan as a way for people to communicate without straining the calling networks, but it struck a nerve and people loved it. Line monetizes by selling stickers and games to its uses.
KakaoTalk
KakaoTalk owned by Daum, the operator of the other major search engine in Korea, currently has 93% of the Korean messenger market. While KakaoTalk began as a simple messaging app it has grown into a platform for games and apps. KakakoTalk monetizes by selling its users stickers and even consumer goods like Starbucks coffee gift cards.