"Tariff Hangover:" Trucking Slump Hits Orders, Miles Decline In Latest Fears Of Downturn
Reuters spoke with dozens of drivers, regional operators, and industry officials across the U.S. to assess the performance of the U.S. trucking sector. What they discovered was an industry that slumped in late 2018, with accelerating deterioration into April.
Reuters noted that the decline in freight rates and hauling is not an indication of an immient recession, but as we have explained earlier this week, it's a tariff hangover that currently plagues the U.S. economy.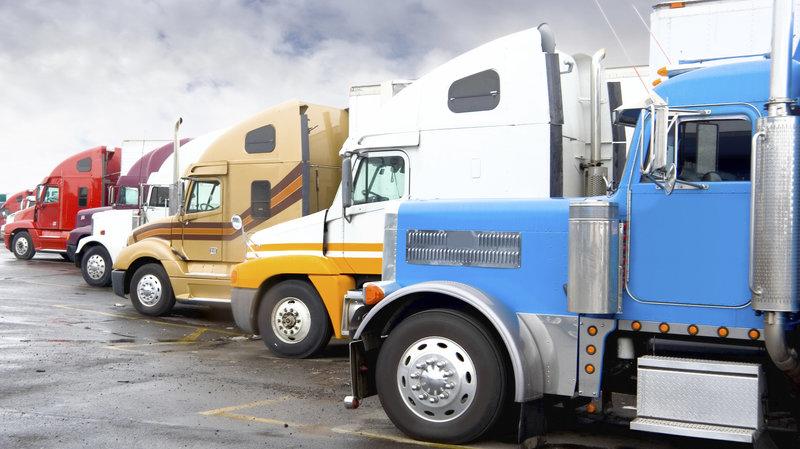 The slowdown in trucking has been uneven nationwide, with declining orders and miles in the Midwest and Southwest, with a slight uptick on the West Coast, economists and regional officials said.
Trucking accounts for 70% of U.S. shipment tonnage, and is the primary means of transportation for manufacturing, construction and retail sectors, all of which have shown weakness in 1Q19. The primary cause for the decline is the sugar high in economic activity last summer, caused by threatened tariffs on Chinese goods, has passed, and the market is now readjusting to much slower freight volumes and prices.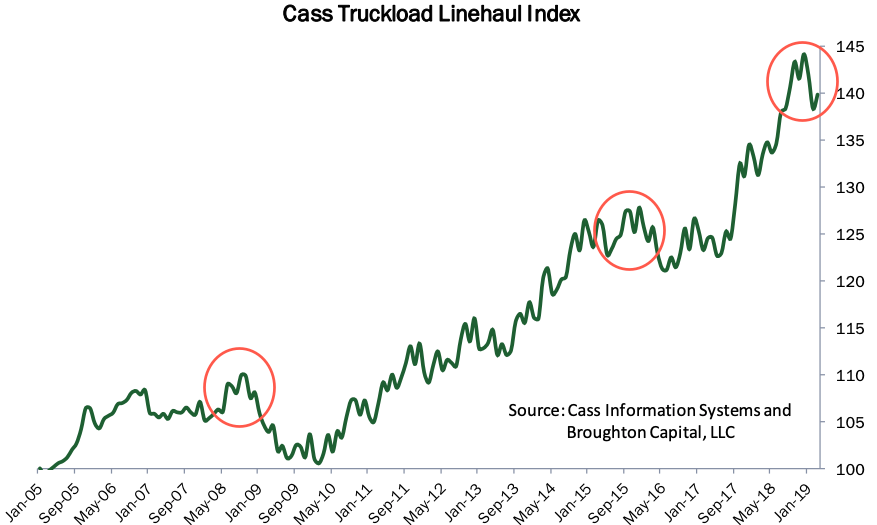 The ACT Research index of truck carrier volumes fell into negative territory in November for the first time since the summer of 2016. It bounced slightly into positive territory in January but returned to negative territory the following month. The weakening index mirrors a soft first quarter for GDP, which is expected to be 1.5% to 1.8% range.
"Clearly, the economy is slowing down," Kenny Vieth, president of ACT Research, said in an interview. "When the economy moderates, the trucking industry can be exceptionally worse than the overall economy because of the deep cyclical trend that characterizes the industry.'
The Cass Freight Index, a measure of American freight volumes and expenditure, has been down for the fourth consecutive month y/y.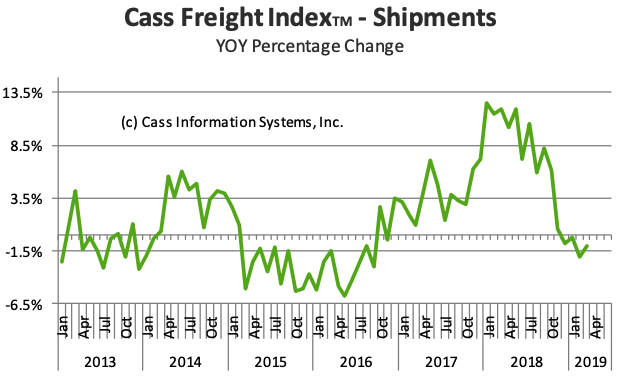 The Cass Freight Index Report for March 2019 suggests that the U.S. economy is rapidly slowing, first visible in the shipping complex last year.