Supply And Demand
Some of the dumbest arguments in finance are about interest rates.
You hear all of this convoluted nonsense about inflation and money supply and productivity. Yet it really comes down to just one thing:
Supply and demand for government bonds.
If there is a greater supply of bonds, interest rates will go up.
If there is a greater demand for bonds, interest rates will go down.
I acquired no transferable skills as a trader except for an intimate knowledge of how prices are determined. The stock market is pretty big, but I handled lots of orders that actually moved the market. Sometimes by a lot.
If you drop 3 million SPYs on the market, the stock market is going to go down. You learn this on a micro-level, and it has macro implications.
When it comes to interest rates, I don't care about inflation. And I really don't care about productivity.
Inflation decreases the attractiveness of bonds, but it doesn't make them go down.
Productivity increases the attractiveness of bonds, but it doesn't make them go up.
What makes interest rates go up and down are large sell and buy orders for bonds, respectively.
This is why studying investment flows is a much better use of your time than staring at spreadsheets. If you can figure out where the money is coming from, and where it is going, you have your answer.
Bitcoin
Bitcoin is somewhat of a special case because the supply is constrained. This is by design.
Bitcoin has no intrinsic value, except its scarcity. People use a lot of fancy mathematics to predict future Bitcoin prices, but it all comes down to supply and demand. The supply is mostly fixed, and the demand keeps going up.
The interesting thing about watching Bitcoin trade is that, well, there are sellers.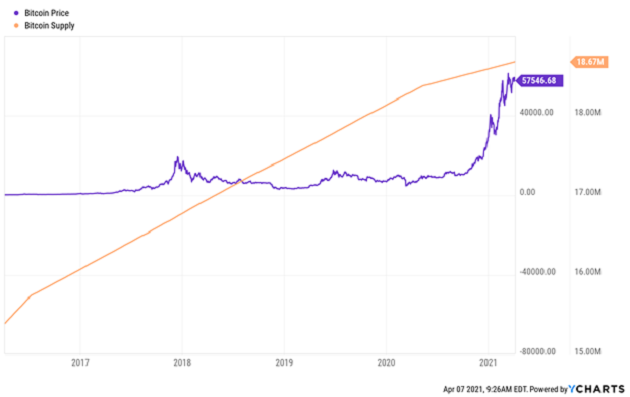 Source: YCharts
You have a lot of folks on Twitter who "HODL" and say that they will never sell. But someone is out there selling; you see it all day long. (10th Man readers know that I sold my Bitcoin.)
Disclaimer: The Mauldin Economics website, Yield Shark, Thoughts from the Frontline, Patrick Cox's Tech Digest, Outside the Box, Over My Shoulder, World Money Analyst, Street Freak, Just One ...
more