Zoom's Quarterly Results Exceed Market Expectations
In March, Zoom (ZM) presented its results for the year 2020, where we observed an increase in its income of 326% and a profit per share of $1.22, with revenue in the last quarter of the year of $882.49 million. Meanwhile, at the close of the session yesterday, we learned the quarterly results of the company.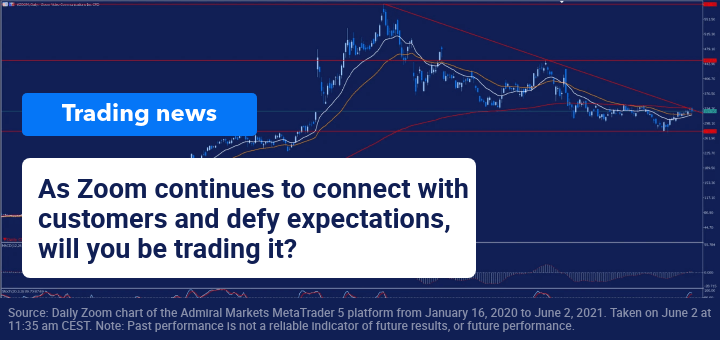 These results continue on a similar path as before, again being better than expected by the market consensus, with Zoom obtaining an earnings per share of $1.32 compared to the expected $0.9889. Moreover, revenues also exceeded market expectations, reaching $956.24 million, despite the return to offices in those places where the situation of the pandemic has improved.
Therefore, the turnover of this first quarter has exceeded the income obtained in the last fiscal quarter of 2020, representing a clear sign of optimism for the company going forwards.
Technically speaking, despite the fact that last year Zoom was one of the great beneficiaries of the situation caused by the pandemic - thanks to the impulse of virtual meetings both at work and through meetings between friends - in recent months, we have seen how the company has followed a clear downward trend, despite the good results. This could be explained due to the strong overheating that this action suffered during the first months of the pandemic and that the market has subsequently corrected until it reached a more appropriate price.
If we look at the daily chart, we can see that the price is currently fighting with its important resistance level in the coinciding zone of its 18-session moving average and the medium-term downtrend line that began at its all-time highs.
These good results can give strength to this action, so if the breaking of this resistance level is finally confirmed, the price could experience a strong upward impulse, although for this we must pay attention to whether the price makes a pullback and is overbought.
For the moment, after yesterday's good results, the pre-opening is trading positive with an increase of more than 2.50%.
Disclaimer: Any opinions, news, research, analyses, prices or other information ("information") contained on this video, constitutes marketing communication and it has not been ...
more