Williams-Sonoma: Solid Quality And Attractive Valuation
Williams-Sonoma (WSM) is one of the top players in the home furnishing industry, with impressive financial performance and plenty of growth opportunities in the long term. The industry is cyclical and competitive, but Williams-Sonoma stock is attractively priced at current levels.
A Solid Business
Brand differentiation and superior designs are key sources of competitive advantage for Williams-Sonoma. Management has proven an ability to generate consistent growth in revenue, cash flows, and earnings over the long term.
(Click on image to enlarge)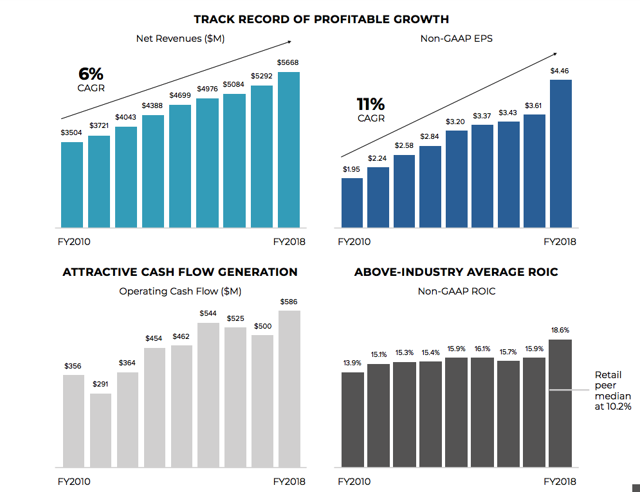 Source: Williams-Sonoma
Profitability levels are well above the industry average, return on invested capital (Nasdaq: ROIC) amounts to 18.6% for the company versus an industry average of 10.2%.
Success attracts competition in the business world, and competitive pressure tends to reduce profitability. When a company can manage to sustain superior profitability over the long term, this signals that the business has solid competitive strengths and an effective management team.
The company generates more cash than it needs to retain, and it has rewarded investors with generous dividends and buybacks over the years. The chart shows how dividends have increased and the number of shares outstanding has significantly declined over time.
(Click on image to enlarge)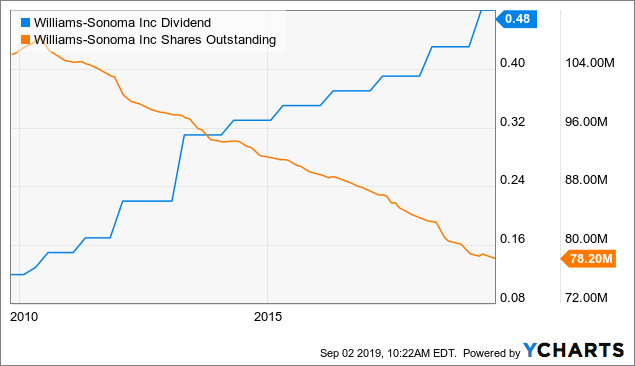 Data by YCharts
The $130 billion US home-furnishing market is highly fragmented, with the top 50 companies producing 45% of total revenues and 25,000 companies generating 55% of sales. This should provide plenty of opportunities for Williams-Sonoma to continue growing through market share gains in its main markets.
The company is barely giving the first steps in terms of international expansion, with only 10% of revenue coming from overseas. The global market opportunity is worth around $350 billion according to management, and this provides abundant room for sustained international growth.
(Click on image to enlarge)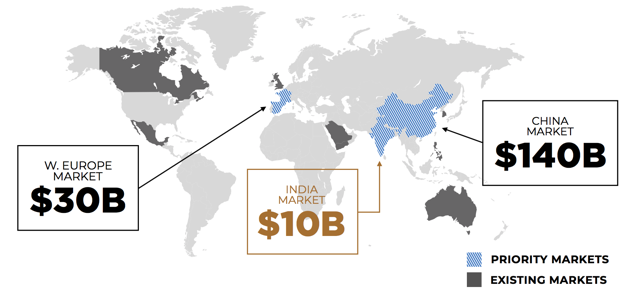 Disclosure: I/we have no positions in any stocks mentioned, but may initiate a long position in WSM over the next 72 hours.
Disclaimer: I wrote this article myself, and it expresses my ...
more