Williams Companies Promotes The Little Blue Flame
Last Thursday Williams Companies (WMB) held their investor day in New York. WMB owns and operates an extensive natural gas network, and is a top ten U.S. midstream energy infrastructure company. Like most big pipeline companies, it's omitted from the Alerian MLP indices because it's not an MLP. CEO Alan Armstrong conceded that the company had in recent years become too closely identified with the oil business and fracking. He said they need to refocus attention on the little blue flame in every kitchen's stovetop, emphasizing a cleaner, more positive message.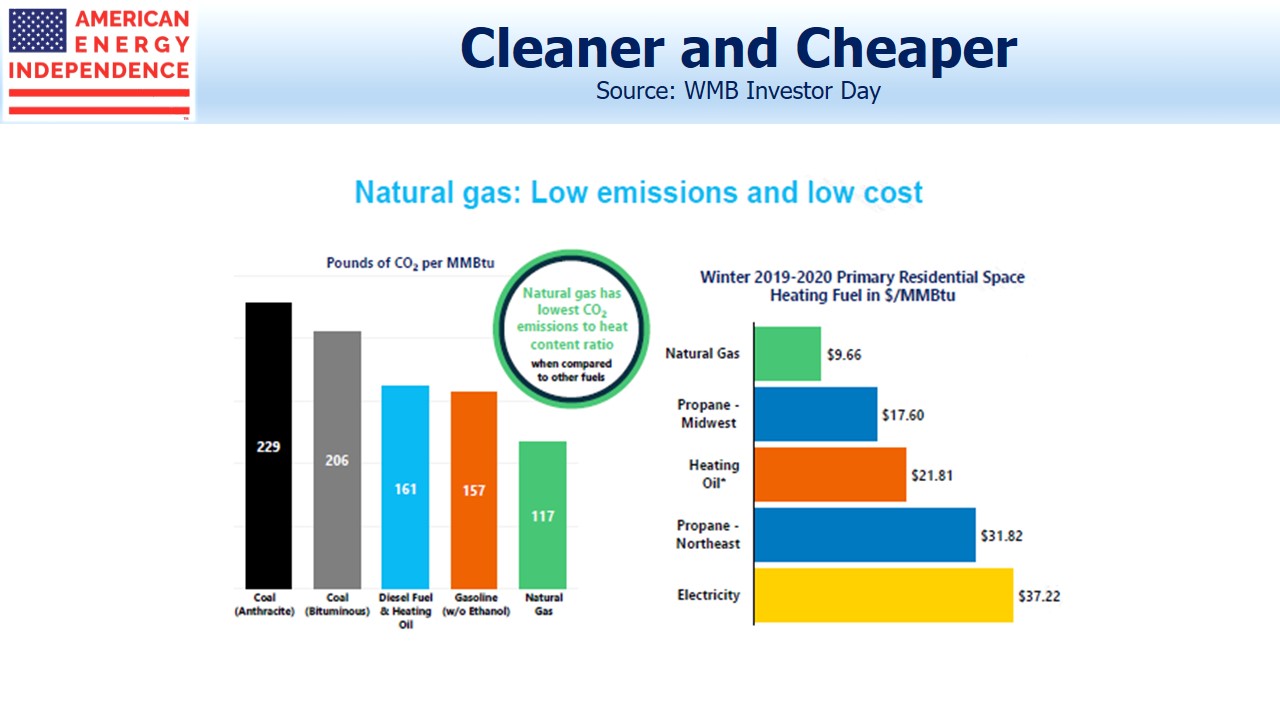 Their presentation opened with some useful slides on the long term, global outlook for natural gas. Although most investors in this sector follow crude oil prices because they drive sentiment among energy investors, our investments are more focused on natural gas because it's the cleanest burning fossil fuel and has a clearer growth path over the next several decades.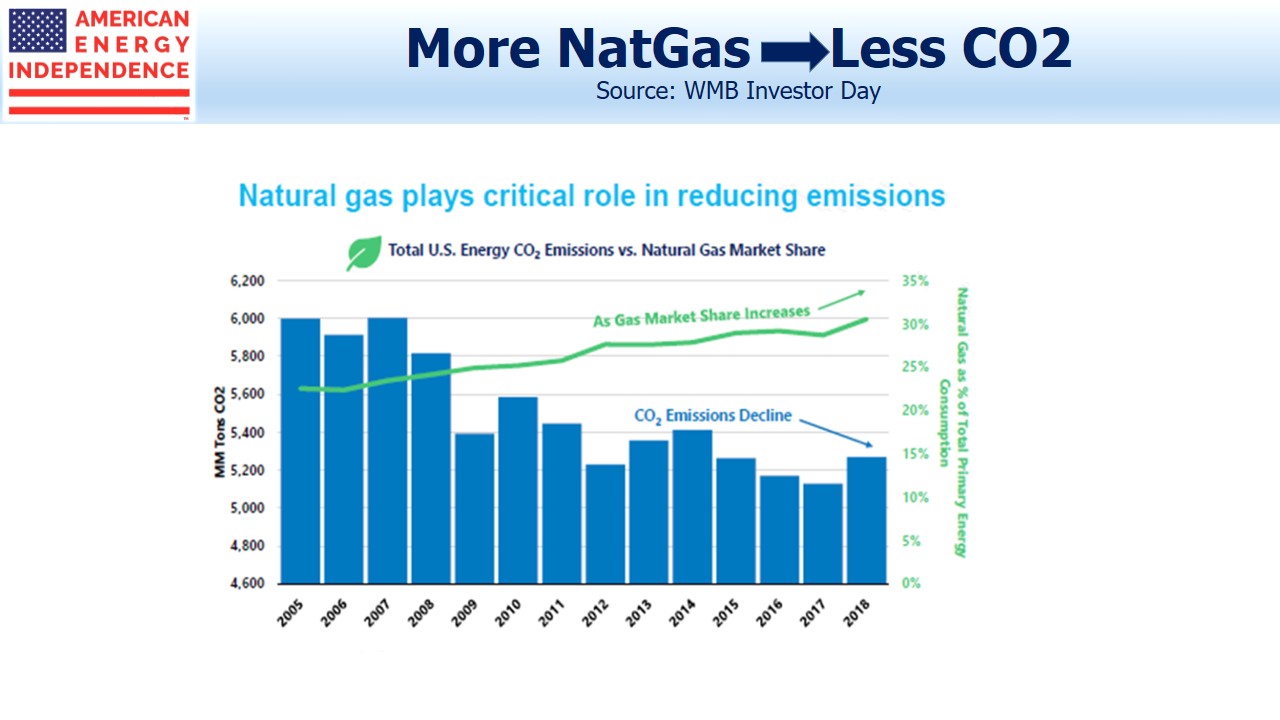 The Shale Revolution has produced an abundance of natural gas in America, which means that it's not only cleaner than other fossil fuels but also the cheapest form of residential heating. So far, the benefits of this abundance have flowed to the consumers of cheap energy and not the producers, as energy investors know well. Figuring out how to better monetize America's energy renaissance consumes management teams and investors.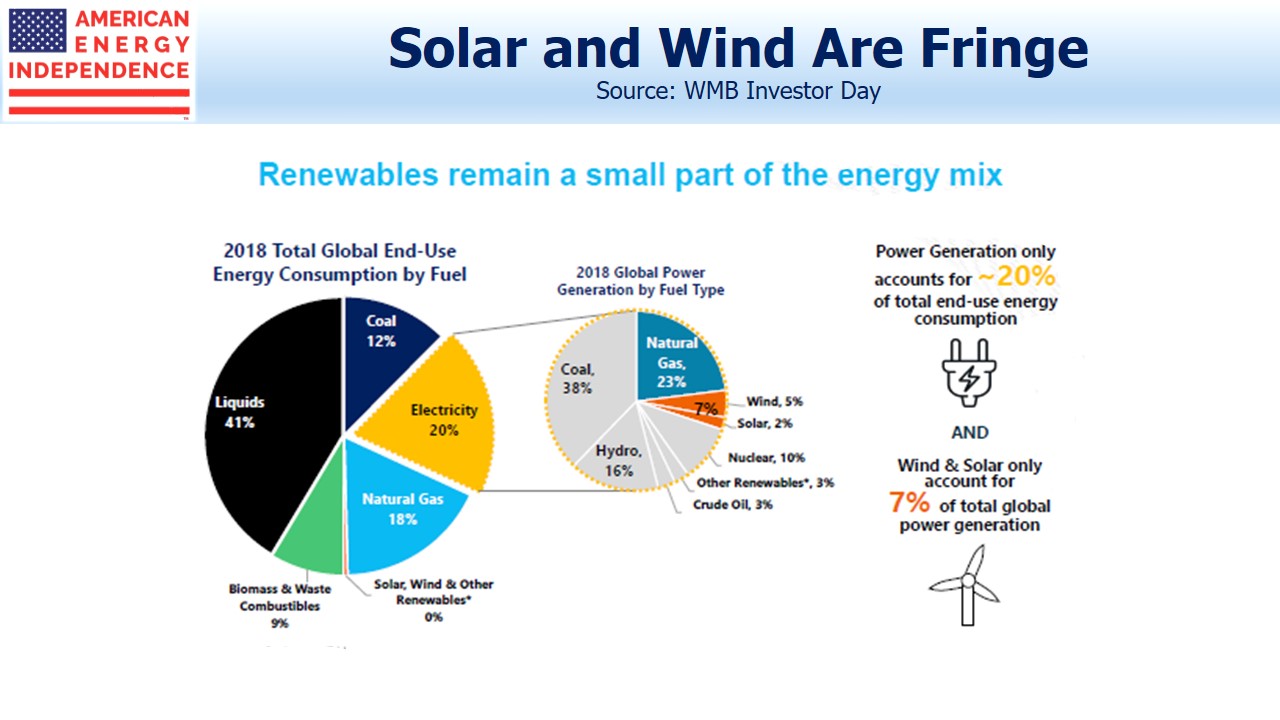 Substantial press coverage is focused on climate change and the opportunity of renewables to impede global warming. Solar and wind remain fringe sources of overall energy, a statement often regarded as incendiary by climate extremists but easily supported in the above chart. Electricity is 20% of global end-use energy consumption, with solar and wind providing 2% and 5% respectively. So at 7% of power generation, which is itself 20% of global energy use, they're 1.4% of the total. Natural gas substitution for coal has been far more effective in lowering emissions, and attracts thoughtful advocates for cleaner energy.
Disclosure:
We are invested in WMB.
The information provided is for informational purposes only and investors should determine for themselves whether a particular service or product ...
more