Will Stocks Underperform In 2020?
The NFIB small business index is significantly off its cycle peak, but it's still relatively strong. In October, it increased from 101.8 to 102.4 which beat estimates for 102. In the past 3 cycles, the readings before recessions were 98.3, 98.3, and 94.4. Small business confidence isn't a leading index. It coincides with the weakness in the economy. It didn't really fall much in the 2001 recession but was hit hard in the recessions in the early 1990s and the late 2000s. The NFIB index tends to do better under Republicans. If a Democrat wins the election in 2020, expect this index to plummet. That shouldn't make you bearish though as firms still need to respond to demand (not politics). That being said, the 2020 election has been listed by firms as a catalyst for uncertainty. Let's see if it replaces the trade war as a common complaint.
The table below shows the components of the NFIB survey.
(Click on image to enlarge)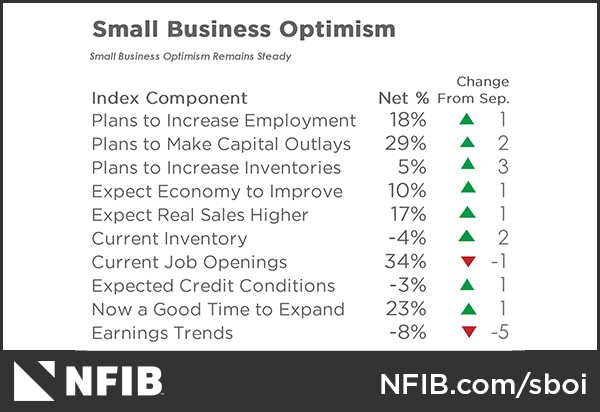 This one is tough to read because even though 8 out of 10 components increased sequentially, the net percentage expecting improved "earnings trends" fell 5 points to -8%. That's a really important component. It's arguably more important than the 3 point increase in plans to increase inventories and the 2 point increase in current inventory. However, you can say real sales and capex expectations are better than last month and the main reason earnings are expected to fall is the tight labor market. 25% of small businesses mentioned labor quality as their most important problem. This is one of the highest readings since the survey was started in 1974. Wage growth is surpassing margins, but firms still have plans to increase employment.
The NFIB employment survey tells us the same thing the September JOLTS report did. Both showed openings are off their peak, but the labor market is still tight. As you can see from the chart below, the percentage of firms with "1 or more hard to fill jobs" is falling. It's usually inversely correlated with the unemployment rate.
Disclaimer: Please familiarize yourself with our full disclaimer here.