Why WISH Stock Is A Sell After The IPO
The COVID-19 pandemic has transformed e-commerce more than any other time since its inception. That's created a wave of new investment opportunities, but not all of them are worth owning…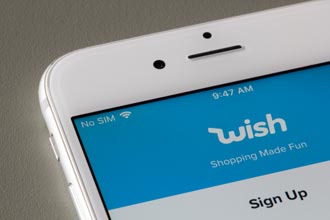 Sales skyrocketed as brick-and-mortar stores took their business online using platforms like Shopify Inc. (NYSE: SHOP), Etsy Inc. (NASDAQ: ETSY), Chewy Inc. (NYSE: CHWY), and Amazon.com Inc. (NASDAQ: AMZN). People's buying habits changed forever. In the third quarter of 2020, e-commerce increased 36.7% over the prior year according to the U.S. Census Bureau.
Even as stores have opened back up and lockdowns have slowed with the distribution of a vaccine, buyers and sellers are now convinced online is the way to go. In fact, a recent survey done by an organization that is part of the United Nations found that most respondents will continue to shop online after the pandemic.
That is why I want to talk to you about one of the most recent e-commerce companies to go public, ContextLogic Inc. (NASDAQ: WISH), the operator of Wish.com, a discount e-commerce platform.
What I Like About ContextLogic Stock
ContextLogic has a lot going for it. Founded in 2010, former Alphabet engineer Piotr Szulczewski wanted to create a more affordable e-commerce platform than Amazon, specifically targeting low- and middle-income customers.
This is done through a mobile-first platform that works by having merchants list their products and sell directly to the consumer. By doing this Wish.com eliminating distributor fees for the sellers while providing shoppers with low-priced merchandise. Prices are also kept down as a significant portion of the product available through the app comes from overseas distributors and often times unbranded to keep prices down.
Wish.com is one of the most unique e-commerce platforms, and it shows how many customers it has been able to acquire and how fast it has grown. It has over 100 million monthly active users in over 100 countries and has shipped over 640 million items.
Disclaimer: Any performance results described herein are not based on actual trading of securities but are instead based on a hypothetical trading account which entered and exited the suggested ...
more