Why I'm Recommending A $44 EV Stock Today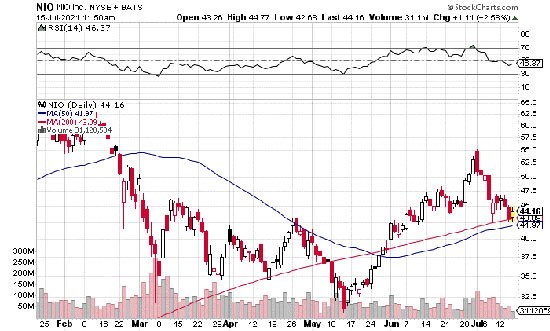 At the company's recent "Power Day mini-roadshow," the company announced plans to accelerate its battery swap service, whereby it swaps customers' discharged EV batteries for fresh ones. Right now, around 30% of its customers live within two miles of one of NIO's "Swap Stations." The company wants to bump that number up to 90% by 2025.
The EV market in China is growing more quickly than the American market; China is home to more than 44% of all EVs in the world, and sales are growing at 36% a year, which suggests a big, long-term boost to the company's bottom lines. NIO has plans to start selling EVs outside of China, with the most likely target being the European Union.
NIO is only one must-own stock in the new, red-hot EV space. This sector deserves every investor's attention.
Disclaimer: Any performance results described herein are not based on actual trading of securities but are instead based on a hypothetical trading account which entered and exited the suggested ...
more