Why BofA Is Bearish On GameStop Stock: 'Turnarounds Are Tough'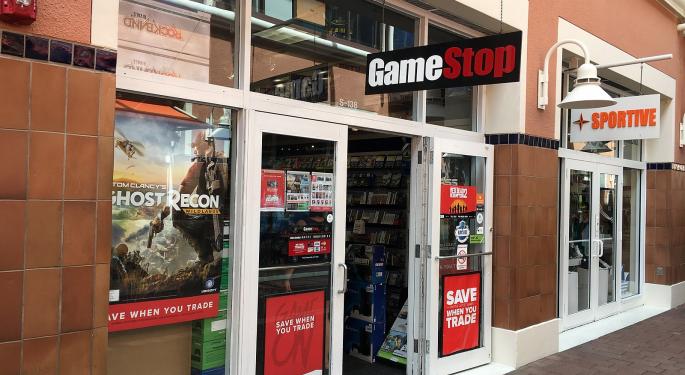 Photo by Phillip Pessar via Wikimedia.
GameStop shares have rallied over the last two days, likely due to strong interest from retail traders once again. One analyst is out with a bearish take on the gaming retailer.
The GameStop Analyst: BofA Securities analyst Curtis Nagle reiterated an Underperform rating on GameStop Corp GME with a $10 price target.
The GameStop Takeaways: GameStop is seeing strong interest from retail traders once again, Nagle said in a Friday time.
The difference this time is that the trades are not being made for the same reasons, the analyst said.
"GME's current short interest is close to 25% of shares outstanding compared to over 100% in January. To put that into another context, GME's trading volume over the past two days is around 15x the current number of shares short," he said.
Retail traders used a David vs. Goliath story of taking on hedge funds who were short the stock during January's rally.
A turnaround for the struggling physical gaming retailer is an uphill battle, Nagle said.
GameStop has negative EBITDA and declining engagement, the analyst said — two factors that could slow a turnaround.
Nagle also questioned whether a push into online sales could help the company, as it may at the cost of hurting the company's high-margin pre-owned and collectible segments.
BofA's price target is based on 8x fiscal 2022 EV/EBITDA. The company's five-year average of the EV/EBITDA metric is 4x versus an average of 10x from the hardlines category.
GME Price Action: Shares of GameStop were down 2.42% at $106 at last check Friday.
© 2021 Benzinga.com. Benzinga does not provide investment advice. All rights reserved.