When Euphoria Prevails, A Stock Market Crash Follows?
Looking at the general level, investors' bullishness toward the stock market is at its highest levels in three years.
Here's the kicker: look at the chart below. This one plots the percentage of bearish investors. The bearish investors have really dwindled over the past year or so, to about 23%. This is probably a more telling sign of euphoria among stock investors than anything else.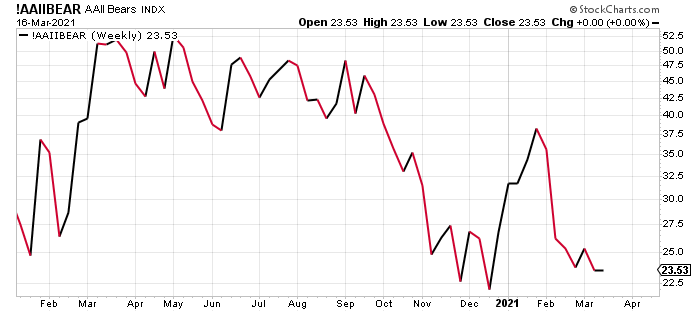 Chart courtesy of StockCharts.com
When Market Euphoria Prevails, Be Careful
Dear reader, I could go on and list more indicators that investor sentiment is becoming euphoric, but I want to stop here and repeat what I said earlier: don't take this lightly.
I can't help but quote what Sir John Templeton has said: "Bull markets are born on pessimism, grow on skepticism, mature on optimism and die on euphoria."
Could there be a stock market crash ahead? It's possible. If we see a minor hiccup in the stock market, and when euphoric investors realize they're losing money, we could see a mass exodus. All of a sudden, there could be a broad market sell-off.
Not too long ago, we saw something like this happen with hot stocks—those that rose by several hundred percent over the past year and were investor darlings. Many of them crashed by 30% in a matter of a few days. We could see that happen again.
Disclaimer: There is no magic formula to getting rich. Success in investment vehicles with the best prospects for price appreciation can only be achieved through proper and rigorous research and ...
more