When Euphoria Prevails, A Stock Market Crash Follows?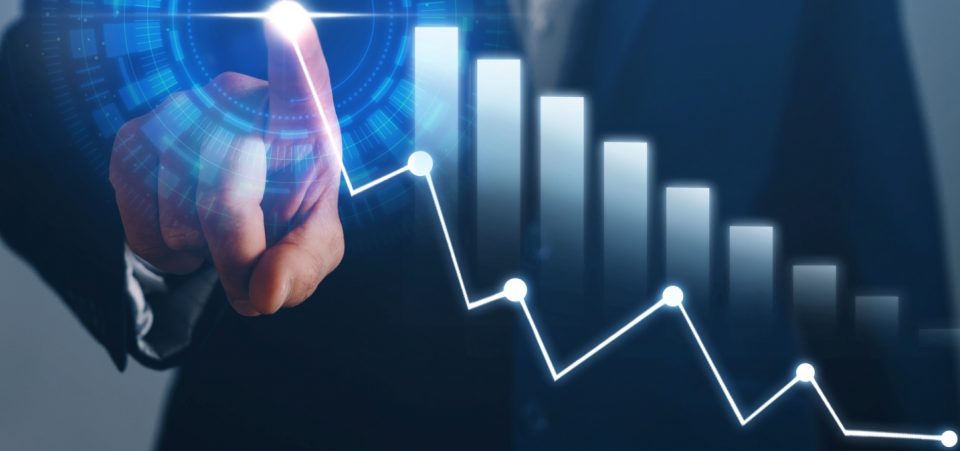 Investor Sentiment Could Be Foretelling a Stock Market Crash
Investors are extraordinarily bullish these days. Don't take this lightly, whatsoever. It could lead to a stock market crash.
Why pay attention to investor sentiment? It's an important indicator of how investors could react. From a historical perspective, whenever investors have become euphoric, even on the slightest headwind, panic selling has followed in the stock market.
In fact, investor sentiment has proven to be a great contrarian indicator of the stock market over the years. When investor sentiment suggests that investors are pessimistic, it's usually time to get aggressive and buy. And when the indicators suggest that investors have become euphoric, it may be time to pause and reflect. In those times, being aggressive could lead to disappointment because a stock market crash could be brewing.
Now some perspective.
Look at the chart below. It plots the Chicago Board Options Exchange (CBOE) Volatility Index (VIX). It's often referred to as the "fear index." When the VIX moves higher, it's a sign that stock investors are becoming scared. When the VIX drops, it's a sign that investors are becoming bullish.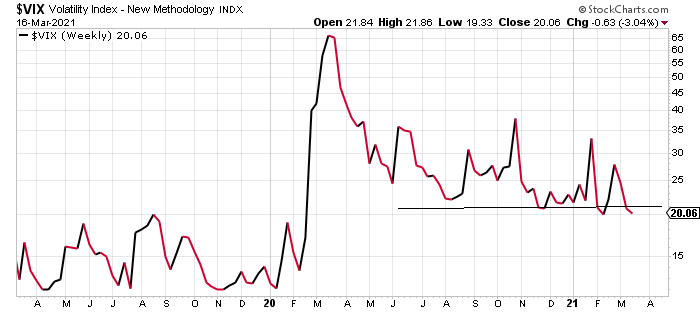 Chart courtesy of StockCharts.com
In early 2020, the VIX bounced higher. Throughout 2020, it dropped, indicating that investors were becoming somewhat calm. Now the fear index is breaking below a major level (20). This says investors are becoming really comfortable and that they may not be too fearful anymore. The lower the VIX goes, the higher the euphoria.
Bullish Stock Investors Increase in Numbers; Bears Dwindle
Look beyond the VIX, too.
The chart below plots the percentage of bullish respondents in the American Association of Individual Investors (AAII) Investor Sentiment Survey.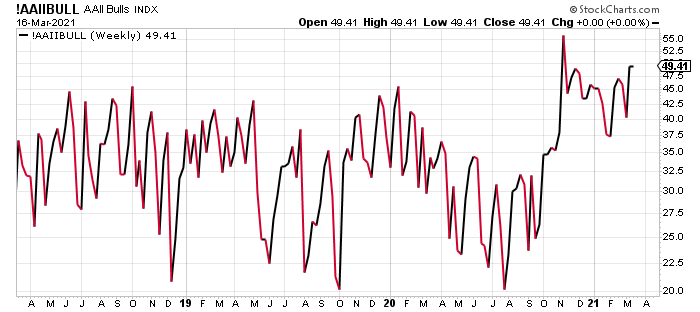 Chart courtesy of StockCharts.com
As per the most recent data, nearly 50% of the respondents of the survey that tracks the sentiment of individual investors were bullish. The last time the respondents were this bullish was in November 2020, when nearly 55% of the participants said they thought the stock market would soar.
Disclaimer: There is no magic formula to getting rich. Success in investment vehicles with the best prospects for price appreciation can only be achieved through proper and rigorous research and ...
more