What's Next?
But... Since then, analysts have started to trim their estimates. Although the decline from $177 to $174.70 isn't much to write home about and could easily be reversed in the coming weeks as analysts continue to adjust to the current reopening landscape, a further decline in expectations could certainly become problematic.
(Click on image to enlarge)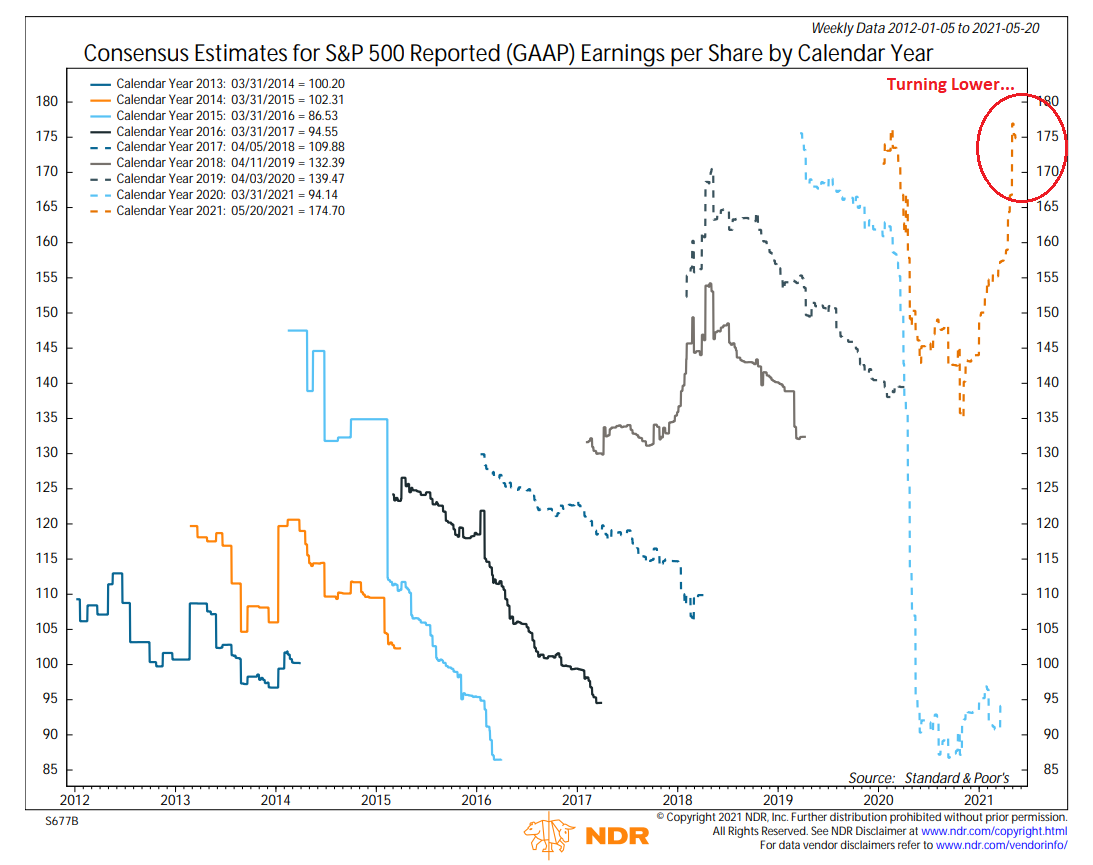 * Source: Ned Davis Research
For example, IF (note the use of capital letters) Consensus Estimates continue to fall, valuations are likely to become an even bigger problem. The bulls argue that although traditional valuation metrics remain in nosebleed territory, the current pace of earnings growth will alleviate this situation over time. But if earnings don't continue apace, well...
Then IF inflation begins to look non-transitory, it is easy to argue that rates would likely start rising again - perhaps quickly. Which, of course, would also put pressure on multiples. And given the levels of stock market valuations, this combination COULD provide traders with enough to cause a "rethink" of expectations - and a correction in prices.
To be sure, I am NOT making a prediction here. Not about earnings, inflation, rates, and/or Fed expectations. No, I'm simply looking at what COULD possibly cause the stock market to rhyme with the projection of the Cycle Composite.
But, the optimist in me is hoping that the Cycle Composite has it completely wrong - and that stocks find a way to march merrily higher in a low volatility fashion for the remainder of the year. It could happen, right?
The opinions and forecasts expressed herein are those of Mr. David Moenning and may not actually come to pass. Mr. Moenning's opinions and viewpoints regarding the future of the markets should ...
more