What's Next?
What Comes Next?
So, what should we expect next? Where do we go the rest of the year?
While long-time readers know that I don't manage money based on market calls, views, or projections, I do like to keep an eye on the historical cycles for clues as to what might be coming down the pike.
Below is a composite of four historical cycles, developed by Ned Davis Research Group. Their "Cycle Composite" blends together all the one-year seasonal, four-year Presidential, and ten-year decennial cycles going all the way back to early 1928.
As I've stated a time or two in the past, the cycle projection is often good at projecting the general trends of the market - and at times, the projections can be scary good. Although, there are also times when the market doesn't follow the historical patterns at all (as in, not a lick) and stocks go their own way.
But what I've learned from watching the Cycle Composite on a daily basis for many years is that when the market is in sync with the cycles, the composite can provide a decent guide for the year.
So, let's get to it. Below is the Cycle Composite for 2021. The blue line is the Cycle Composite, and the dashed orange line is the actual movement of the S&P 500.
(Click on image to enlarge)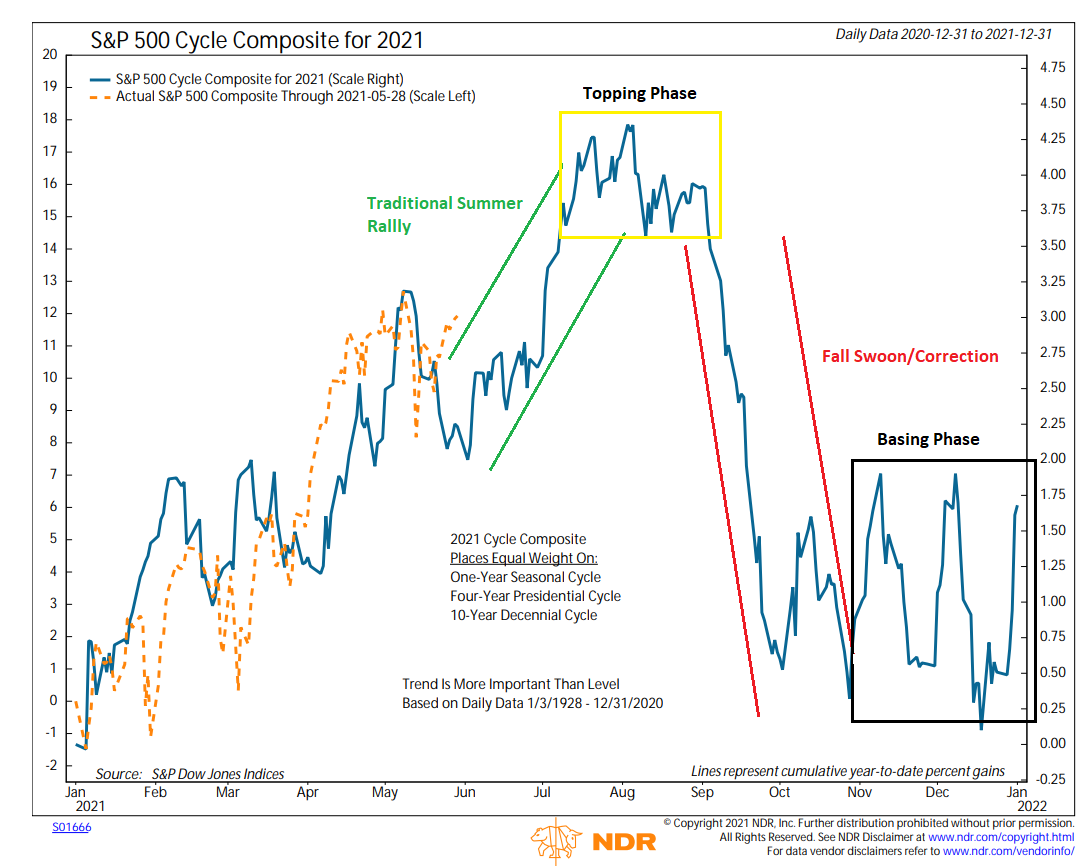 * Source: Ned Davis Research
As you can see, the market appears to be largely in sync with the composite so far in 2021. And if things continue to unfold according to plan, we should expect to see another leg higher, which would be in keeping with the traditional summer rally. From a near-term standpoint, I can argue that stocks could move higher if traders can come to grips with their fears about Fed tapering and inflation.
The Fall Swoon
However, as we move into early fall, history says there could be trouble ahead.
The Cycle Composite suggests that stocks could experience a meaningful correction in the historically weak September through October period. And while the trend of the Cycle Composite is more important than the levels, the current projection suggests that 2021's year-to-date gains could come under fire.
The opinions and forecasts expressed herein are those of Mr. David Moenning and may not actually come to pass. Mr. Moenning's opinions and viewpoints regarding the future of the markets should ...
more