What Higher Corporate Taxes Mean For The Market: A Surprising Observation
Finally, looking specifically at the potential impact of the Biden corporate tax proposal, which would raise the corporate income tax rate to 28% from 21%, impose a new minimum tax on US companies, and increase taxes on foreign income of many US-based multinationals, BMO's analysis on the impact on S&P 500 earnings focuses on the headline corporate tax rate and the estimated reduction to bottom-up EPS given a 28% rate and a potential compromised rate of 25%.
Looking at 2022 EPS forecasts for S&P 500 companies, bottom-up EPS for the index currently stands at $203. An increase in the tax rate to 25% could shave 3.5% off earnings, based on BMO's work, lowering 2022 bottom-up EPS for the S&P 500 to $196.
A corporate tax hike to the proposed 28% rate could reduce earnings by 6.1%, slashing 2022 bottom-up EPS for the S&P 500 down to $191.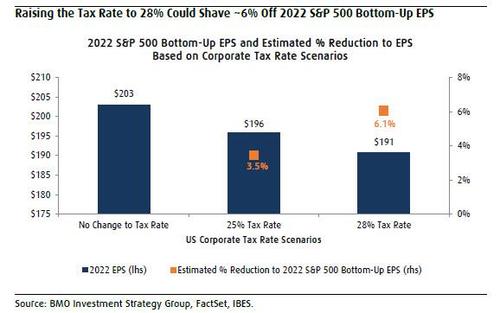 If the proposed 28% corporate tax rate were to get enacted, it would reverse half of the tax cuts imposed by Trump back in 2017-18, with the effects not necessarily being felt evenly across sectors.
S&P 500 sectors that were the biggest beneficiaries of the tax reform bill put forth by Trump and exhibited significant reductions to their overall tax rates, such as Health Care, Consumer Discretionary, and Technology, could be hurt the most. These sectors were identified by examining the change in the aggregate effective tax rates for all 11 S&P 500 groups for the end of 2017 (pre Tax Cuts and Jobs Act of 2017) vs. the end of 2019 (post Tax Cuts and Jobs Act of 2017).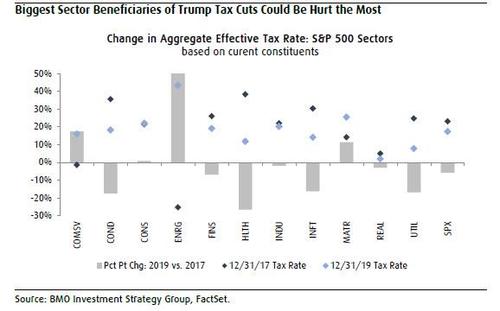 It is important to keep in mind that any increase in taxes and reduction to EPS for US companies could also be offset to some degree by resulting positive factors of higher taxes, such as infrastructure spending and economic stimulus.
Disclaimer: Copyright ©2009-2021 ZeroHedge.com/ABC Media, LTD; All Rights Reserved. Zero Hedge is intended for Mature Audiences. Familiarize yourself with our legal and use policies every time ...
more