What Higher Corporate Taxes Mean For The Market: A Surprising Observation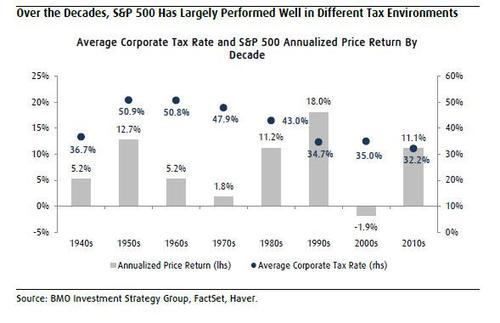 The S&P 500 logged some of its best gains in the 1950s despite tax rates rising to >50%, and then posted subpar annualized returns in the 1970s even as tax rates decreased. During the 1980s and 1990s, US stocks did see solid gains while tax rates were lower, but then registered losses in the 2000s while taxes remained at 35% as the tech-bubble and financial crisis drove down stock prices. Simply stated, there are many other factors at play. According to BMO's Belski, "it is not corporate tax rates that are dictating market performance."
A similar story exists on the earnings front. Over past decades, US companies have been able to generate substantial earnings growth in different tax environments, including periods of high corporate tax rates.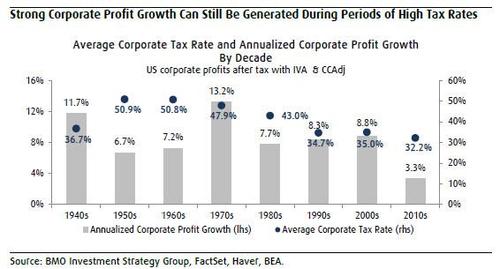 To further evaluate the impact of corporate tax reform on US stock returns, BMO grouped S&P 500 companies into quintiles based on their year-end effective tax rates (Q1= highest tax rates; Q5= lowest tax rates), and examined performance during the two previous major tax legislation changes in 2018 (tax cut) and 1993 (tax hike).
Leading up to the Trump tax cut in December 2017, the S&P 500 companies with the highest tax rates (considered tax reform beneficiaries), largely lagged their lowest tax rate counterparts until a short spell of outperformance occurred three months prior to the legislation being signed into law through two months after, which then eventually faded. Looking at calendar year price returns, companies in quintile 1 indeed outpaced those in quintile 5 in both 2017 and 2018.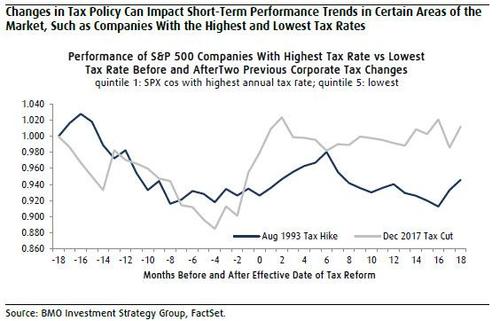 However, the highest tax rate group was not the best performing quintile in either year as quintile 3 topped returns in 2017 while quintile 2 led the way in 2018.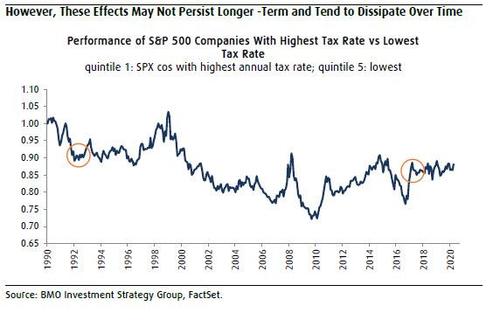 The highest tax rate stocks also largely trailed the lowest tax rate stocks leading up to the Clinton tax hike in August 1993, which was then followed by bouts of outperformance and underperformance for quintile 1 vs. quintile 5. On a calendar year basis, the lowest tax rate group was the second best performer (13.1%) after quintile 1 (18.9%) in 1993, despite the tax increase, while quintile 2 (11.7%) was the biggest laggard. In 1992, the lowest tax rate names topped performance, outpacing quintile 1 by almost seven pct. pts with quintiles 2 & 3 the biggest laggards.

What is the takeaway here?
While changes in tax policy may very well impact short-term performance trends in certain areas of the market, the direction and magnitude of these impacts are not necessarily consistent, and tend to dissipate as time goes on. As such, BMO is not advise its clients and investor in general to use tax rates as a standalone factor in predicting longer-term forward returns, and instead should focus on fundamentals and the economy.
Disclaimer: Copyright ©2009-2021 ZeroHedge.com/ABC Media, LTD; All Rights Reserved. Zero Hedge is intended for Mature Audiences. Familiarize yourself with our legal and use policies every time ...
more