What Higher Corporate Taxes Mean For The Market: A Surprising Observation
Some more details:
Biden's proposal to raise the US corporate tax rate to 28%, from 21%, would mark the first increase since 1993 and sixth tax hike since 1945.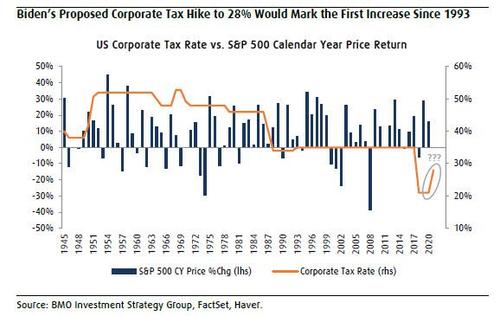 There is still a way to go before the proposed tax hike by the Biden administration gets enacted and the finalized details of the legislation emerge. Nonetheless, the prospect of higher taxes tends to immediately translate into angst among investors - especially when coupled with fears about an imminent capital gains tax hike - despite historical market performance data indicating that changes to the corporate tax code should not be feared.
During the five prior corporate tax rate increases in 1950, 1951, 1952, 1968, and 1993, the S&P 500 index posted an average calendar year gain of 12.9% with positive price returns in each instance. This gain was well above the 4.6% average return registered during the nine annual periods when the tax rate was reduced and also higher than 9% price return for all calendar years going back to 1945. The standard deviation of price returns has also been substantially lower during these tax hike periods.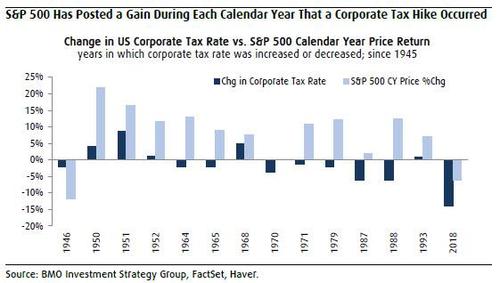 Increases in corporate tax rates have also coincided with stronger US economic growth as real GDP grew at a 5.7% average clip during annual tax hike periods vs. a 3.7% rate during tax cut periods and a 3.1% average growth clip in all years since 1945.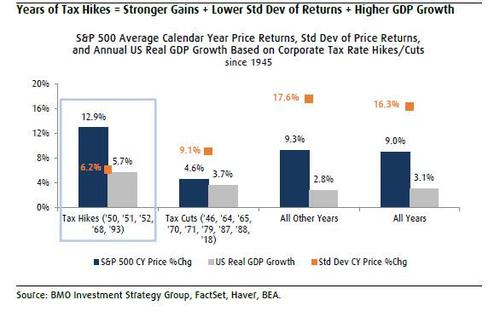 As BMO notes, from its perspective "this is not a matter of tax policy helping or hindering US equity gains, but instead more likely to do with the level of economic growth during these periods."
Along with looking at S&P 500 performance during years in which tax policy changes occurred, BMO also examined annual price returns based on the general level of corporate tax rates. Despite common perceptions to the contrary, the bank's work shows that there is little evidence to suggest that corporate tax rates have any type of meaningful impact on US equity market returns.
For instance, going back to 1945, the S&P 500 has averaged a 10% gain during years in which the US corporate tax rate was below 35% compared to the 10.3% gain posted during years when the tax rate was 50% or higher. Keep in mind that the proposed 28% corporate tax rate would still rank among the lowest in US history after those seen in 2018-20.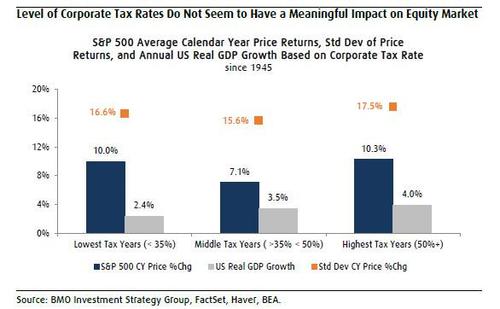 Over the decades, US stocks have predominantly performed well regardless of the underlying tax regime in place.
Disclaimer: Copyright ©2009-2021 ZeroHedge.com/ABC Media, LTD; All Rights Reserved. Zero Hedge is intended for Mature Audiences. Familiarize yourself with our legal and use policies every time ...
more