Western Digital Now Developing Bullish Momentum
And here is another stock preparing to develop a bullish trend and once more a chart where levels are key. This time it's WDC Western Digital.
If we start with the volume point of control denoted with the yellow dashed line, this gives us the fulcrum of the market where volume and price have been in congestion for the longest period and hence have the greatest volume associated with it. However, what the VPOC also often produces, as it has done here, is to produce strong and well-developed levels of support and resistance as the market congests, and so gives us clear levels against which to benchmark breakouts and breakaways. Whilst one thick line denotes a strong level, two in a cluster are doubly important, strengthening such levels exponentially, and here we can see this in effect just below $45 per share with the red and blue dashed lines. This was a ceiling of resistance and a powerful one which was breached last week with the up spread candle as bullish momentum developed. So far this week we have seen this stock continue higher and with the volume-based resistance on the histogram falling away, and with only minor price based resistance ahead, we could see this stock return to the $70 per share level in the longer term.
What is also encouraging and adding weight to the bullish picture is the decline in the selling pressure which has been waning since August. Note how the selling is falling away on those weeks of down candles, and in areas which had seen heavy selling previously. Again a good sign the sellers have been absorbed and the market makers are now preparing a new campaign for this stock. Finally, note the trend monitor indicator for NinjaTrader has also transitioned to reflect this positive view.
(Click on image to enlarge)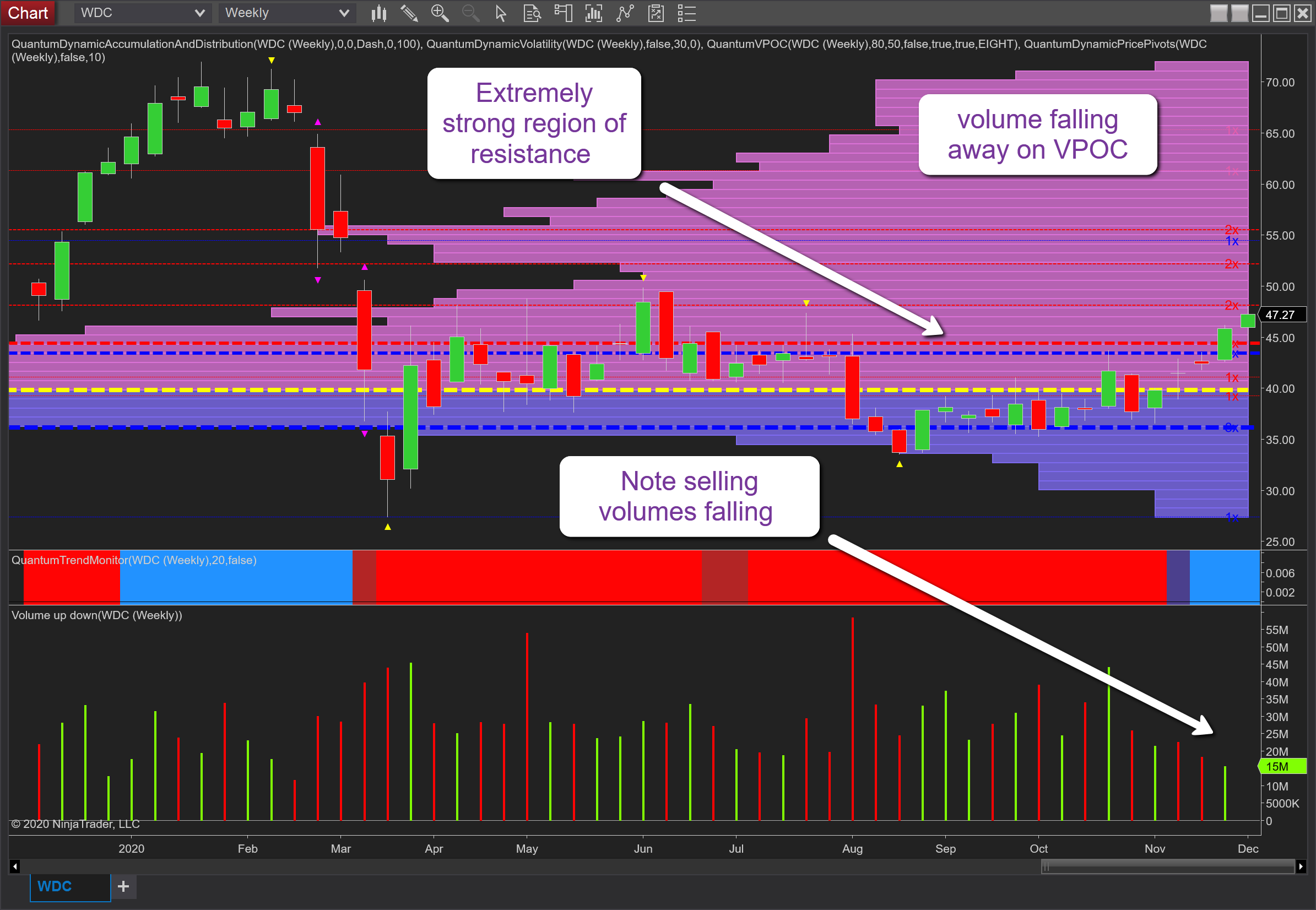 Disclaimer: Futures, stocks, and spot currency trading have large potential rewards, but also large potential risk. You must be aware of the risks and be willing to accept them in order to invest in ...
more