Wells Reports Dismal Q4 Earnings: Huge Earnings Miss, NIM Tumbles As Expenses Soar
If JPMorgan was the poster child for how one should front-run the Fed's QE4 (which JPMorgan triggered thanks to the repo market crisis it itself created by pulling liquidity from the market and investing it in risk assets) and report blowout Q4 earnings, Wells Fargo was the polar opposite.
Warren Buffett's favorite bank reported revenue and EPS which both missed estimates, with Q4 revenue sliding 5.1% to $19.9BN, below the $20.1BN estimate, while Net income of $2.9 billion and diluted EPS of $0.60 (which included the impact of $1.5 billion, or $(0.33) per share, of litigation accruals) also missed estimates of $1.10, even with the one-time adjustment. There were several other adjustments including i) $362 million gain from the sale of our Eastdil Secured (Eastdil) business; ii) $166 million of expenses related to the strategic reassessment of technology projects in Wealth and Investment Management (WIM); iii) $153 million linked-quarter decrease in low-income housing tax credit (LIHTC) investment income; iv) $134 million gain on loan sales predominantly junior lien mortgage loans. All this was offset by a $125 million reserve release.
However one defines it, the Net Income trend is hardly Wells Fargo's friend: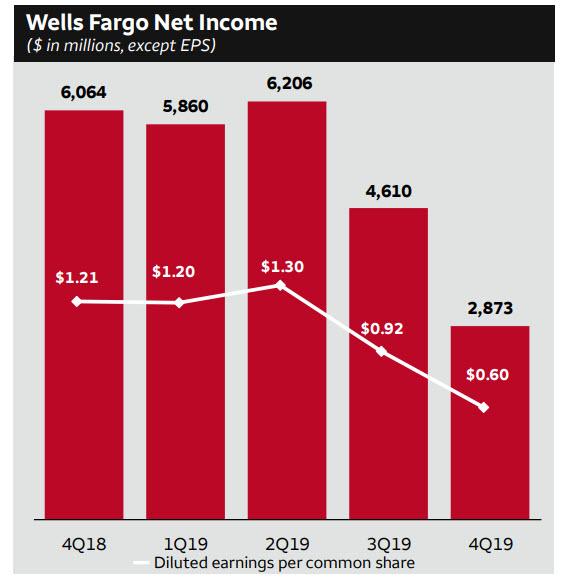 Despite the dismal Q4 results, Wells was proud to announce it returned $9.0 billion to shareholders through common stock dividends and net share repurchases, up from $8.8 billion in 4Q18. Of note, Wells common shares outstanding tumbled 10% to 446.8 million shares, as the bank continued to aggressively buyback shares.
The full-year results were not much better, with total revenue shrinking by $1.3 billion to $85.1BN, despite an increase in total loans and deposits, as non-interest expense surged. Not even the 10% drop in common shares outstanding - i.e., thank you massive buybacks - could help the bank's bottom line.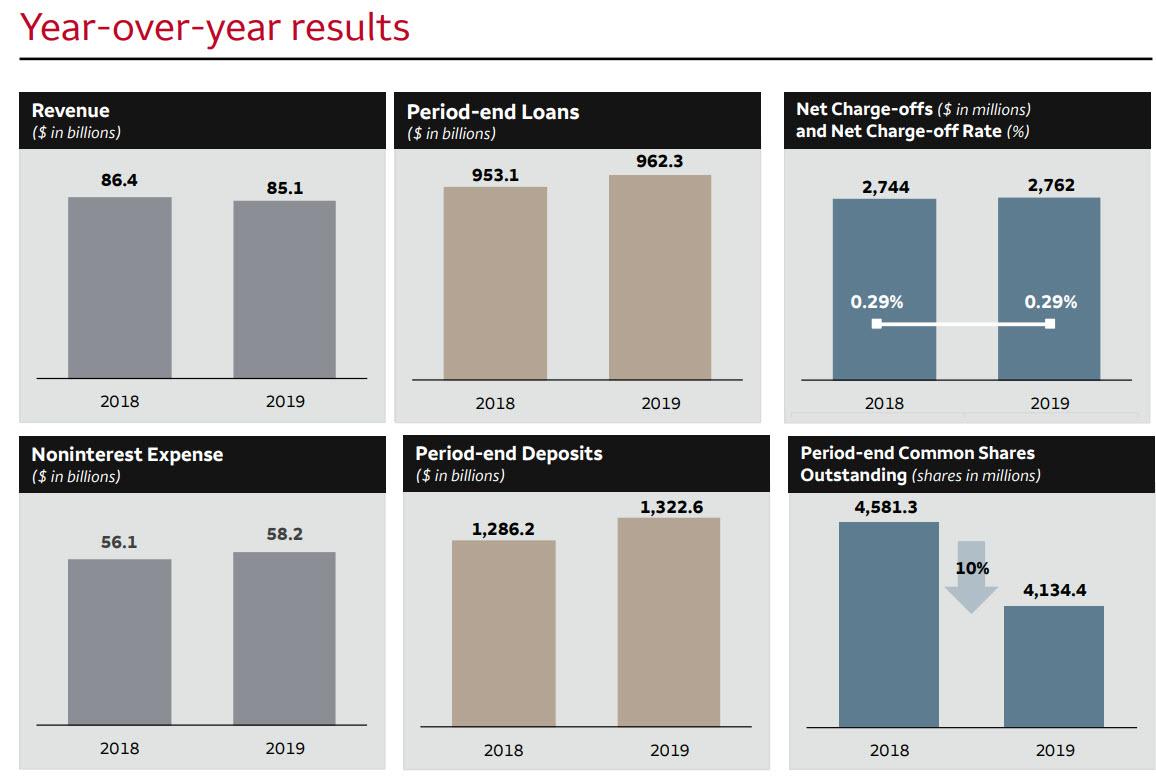 What was the main reason behind Wells' dismal performance?
As has been the case for the past year, the company's Net Interest Income just refuses to stop shrinking, and in Q4 it dropped to a new multi-year low of just $11.2BN, down $1.4BN or 11%, largely due to "the impact of a lower interest rate environment." Not even the impressive increase in earning assets, which rose $18.7 billion Q/Q, could offset the drop: i) Debt securities up $13.7 billion; ii) Loans up $6.7 billion; iii) Mortgage loans held for sale up $1.3 billion; iv) Equity securities up $1.2 billion; v) Short-term investments/fed funds sold down $3.4 billion.