Wells Fargo Just Reported The Worst Mortgage Number Since The Financial Crisis
There was more bad news for Wells. First, as the chart below shows, Noninterest Income has been a disaster and is only getting worse with virtually every revenue category posting Y/Y declines.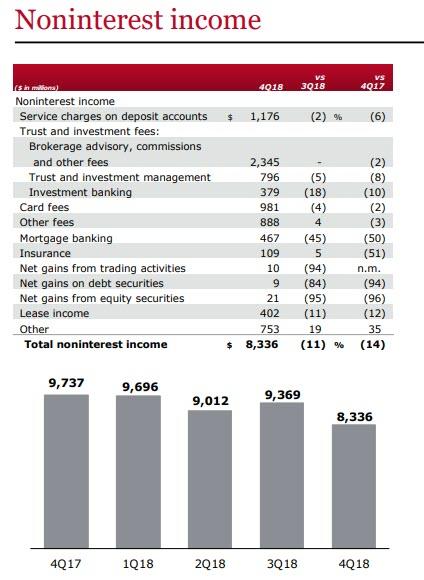 Things were not better on the interest income side where the bank's Net Interest Margin managed ended its recent streak of increases, and was unchanged at 2.94% resulting in $12.644 billion in Net Interest Income, and missing expectations of an increase to 2.95%. This is what Wells said: "NIM of 2.94% stable LQ as a benefit from higher interest rates and favorable hedge ineffectiveness accounting results were offset by the impacts of all other balance sheet mix and lower variable income."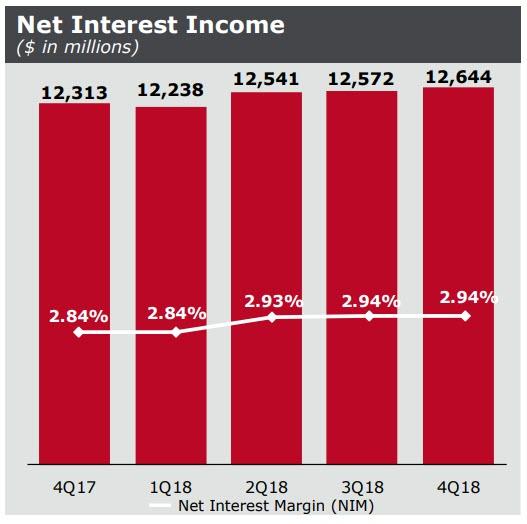 There was another problem facing Buffett's favorite bank: while NIM failed to increase, deposits costs are rising fast, and in Q4, the bank was charged an average deposit cost of 0.55% on $914.3MM in interest-bearing deposits, double what its deposit costs were a year ago.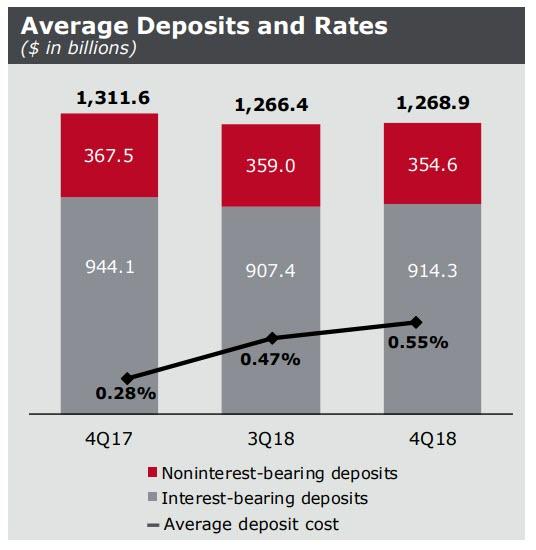 There was a silver lining however: amid concerns over the ongoing slide in the scandal-plagued bank's deposits, which declined 3% or $40.1BN in Q3 Y/Y (down $2.3BN Q/Q) to $1.27 trillion, in Q4 Wells finally succeeded in getting a modest increase in deposits, which rose to $1.286 trillion, if still down 4% Y/Y. This was driven by growth in Wealth & Investment Management deposits driven by higher retail brokerage sweep deposits, "partially reflecting a change in our customers' risk appetite, as well as higher private
banking deposits." Offsetting this were declines in small business banking deposits, partially offset by growth in retail banking consumer deposits.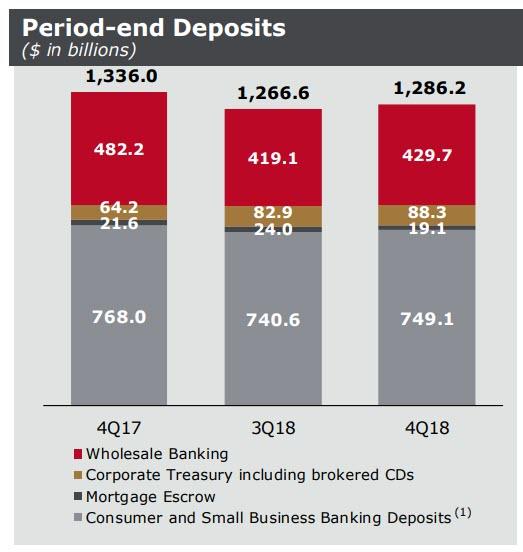 And some more good news: the recent ongoing shrinkage in the company's balance sheet appears to have finally reversed, because one quarter after average loans declined from $944.3BN to $939.5BN, the lowest in years, and down $12.8 billion YoY, average loans outstanding increased fractionally to $946.3BN, up $6.8BN, or 1% Q/Q. This rebound was entirely due to commercial loans , which were up $7.7 billion LQ on higher commercial & industrial loans. Meanwhile, consumer loans continued to decline, and were down $835 million LQ as growth in nonconforming first mortgage loans and credit card loans was more than offset by declines in legacy consumer real estate portfolios including Pick-a-Pay and junior lien mortgage loans due to run-off and sales, as well as lower auto loans.
Disclosure: Copyright ©2009-2018 ZeroHedge.com/ABC Media, LTD; All Rights Reserved. Zero Hedge is intended for Mature Audiences. Familiarize yourself with our legal and use policies every time ...
more