Warren Buffett's Recent Stock Portfolio Changes
Warren Buffett, head of Berkshire Hathaway (BRK-A) (BRK-B), is one of the richest men in the world and one of the most followed investment professionals.
Many long-term investors pay close attention to his stock moves and the Berkshire Hathaway stock portfolio, and often follow in his footsteps.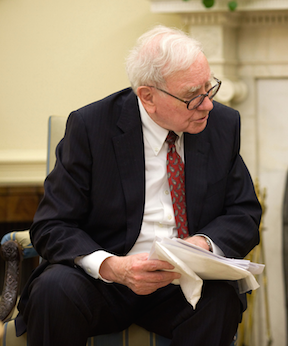 Here are his recent changes:
He sold off over 57 million shares of Apple (AAPL), but the stock still makes up over 43% of his portfolio and his largest holding.
He added 88 million shares of Verizon (VZ) to his current holdings in the company.
He sold off more than 800,000 shares of US Bancorp (USB), but still owns131 million shares.
He added 4 million shares of Chevron (CVX) to his current stock holdings.
He reduced his General Motors holdings (GM) by 7.5 million shares.
He sold off a substantial amount of his holdings in Wells Fargo (WFC), about 75 million shares.
He bought more shares of Abbvie (ABBV), Merck (MRK), Kroger (KR), Restoration Hardware (RH), T-Mobile (TMUS), Marsh & McLennan (MMC), and Bristol-Myers Squibb (BMY).
He sold 5 million shares of Suncor (SU).
Finally, he closed out his entire positions in JP Morgan Chase (JPM), M&T Bank (MTB), Barrick Gold (ABX), PNC Financial (PNC), and Pfizer (PFE).
To see Warren Buffett's portfolio, click here. Let's see if you can outperform Warren Buffett this year.
Disclosure: The author owns AAPL, MRK, and PFE.
Disclaimer: This article is designed to provide information. It is provided with the understanding that neither the author nor ...
more