Waiting For Fair Value
I end up with seven factor-based fair values. I exclude the highest and lowest of these and average the middle five to come up with my final fair value.
But for companies in the financial sector, I don't use the EBITDA, unlevered free cash flow, or research values, and I take the median of the other four.
Fair Value Examples
Here are some examples of fair values for a dozen S&P 500 stocks, chosen completely at random: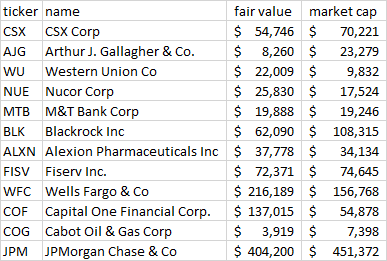 As you can see, most of these companies are relatively fairly valued at the moment. Western Union and Capital One seem underpriced and might be good value-based investments; Arthur J. Gallagher seems comparatively overpriced.
Please note that I did no backtesting at all to come up with this complicated formula. The seven measures I chose are all old, dating from the 1980s or earlier; it has long been standard to compare market-cap-based value measures to similar companies, and it has long been standard to compare EV-based measures to the market as a whole.
Now let's see how investing in underpriced companies and holding until they are fairly priced actually works in practice.
Testing a Fair Value-Based Strategy
My test is to check every week among all stocks listed on US exchanges and to buy them if a) their market cap is $30 million or more; b) their price is $1.00 or more, and c) their fair value is three times their market cap or more. I will then hold them through thick and thin until their market cap becomes greater than their fair value—or until they're delisted or are bought by another company.
I tested this going back to 1999 using Compustat's database, building a portfolio that at its peak numbered over 400 stocks. The CAGR of the equity portion of the portfolio (ignoring the cash portion) is 15.77%, which is respectable, considering the CAGR of the S&P 500 is 7.28% over the same period, and considering that you'd often be holding almost as many stocks at a time. A total of 3,118 stocks were bought. 53% of the stocks were winners. The average return of a stock was 36.98%; the average holding period was 464 days (about 15 months). Here is a year-by-year summary: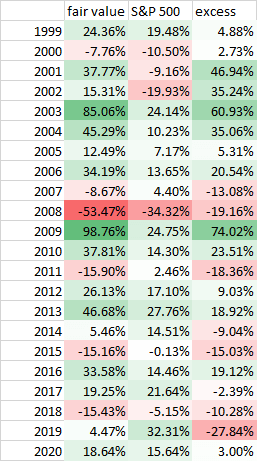 As one would expect of a strictly value-based strategy, it outperformed over the 21st century as a whole but underperformed the S&P 500 in six out of the last ten calendar years.
Now some of these stocks rose to their fair value; others were sold because they were delisted or acquired. To answer the first two questions I posed at the beginning of this article:
Of the 2,356 stocks that were bought more than five years ago, 78.7% of them "rose" to their fair value within five years; 20.5% were delisted or acquired, and 0.8% remained in the portfolio for over five years. (I put "rose" in quotation marks because in many cases the fair value dropped so much that the stock was sold at a loss.)
Of all the stocks that "rose" to their fair value within five years (and this includes some stocks bought in the last five years), it took an average of 370 days for them to do so, which is just over a year; they had an average return of 34.13%.
We can conclude that the average stock, if bought at a discount of 67% to its fair value, will take about a year to "rise" to its fair value.
It's important to note that this system buys each stock at more or less the precise moment when its price dips below 1/3 of its fair value. Its price could continue to fall for a while afterwards. It sells it at more or less the precise moment when its price reaches its fair value. Its price could continue to rise afterwards.