Visualizing The Rise And Fall Of Social Media Platforms
3. Will Facebook ever lose its top spot?
Never say never, but not anytime soon. Since 2008, Facebook has been far and away the most popular social network on the planet. If you include Facebook's bundled services, over 2 billion people use their network each day. The company has used acquisitions and aggressive feature implementation to keep the company at the forefront of the battle for attention. Facebook itself is under a lot of scrutiny due to growing privacy concerns, but Instagram and WhatsApp are more popular than ever.
4. What Happened to Snapchat?
In 2016, Snapchat had thoroughly conquered the Gen Z demographic and was on a trajectory to becoming one of the top social networks. Facebook, sensing their position being challenged by this upstart company, took the bold step of cloning Snapchat's features and integrating them into Instagram (even lifting the name "stories" in the process). The move paid off for Facebook and the video above shows Instagram's user base taking off in 2016, fueled by these new features.
Even though Facebook took some of the wind out of Snapchat's sails, the company never stopped growing. Earlier this year, Snapchat announced modest growth as its base of daily active users rose to 190 million. For advertisers looking to reach the 18-35 age demographic, Snapchat could still be a compelling option.
5. Why is TikTok so popular now?
The simple answer is that short-form video is extremely popular right now, and TikTok has features that make sharing fun. The average user of TikTok (and its Chinese counterpart, DouYin) spends a staggering 52 minutes per day on the app.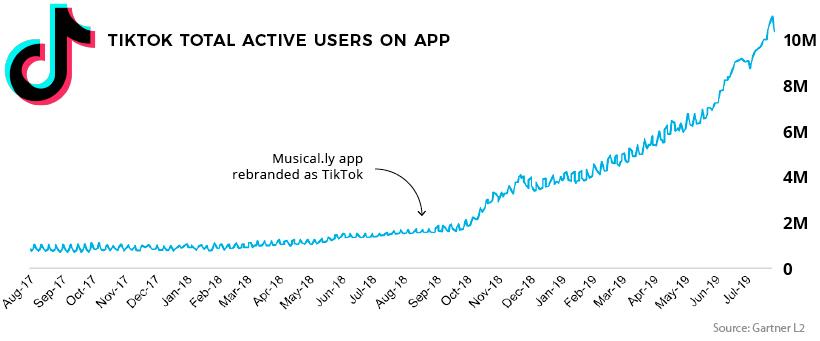 Also propelling its growth is the company's massive marketing budget. TikTok spent $1 billon last year on advertising in the U.S., and is currently burning through around $3 million per day to get people onto their platform. One looming question for the China-based company is not whether Facebook will co-opt their features, but when.
Copyright ©2009-2015 ZeroHedge.com/ABC Media, LTD; All Rights Reserved. Zero Hedge is intended for Mature Audiences. Familiarize yourself with our legal and use policies every time you engage ...
more