Value Stocks 2021 - Eli Lilly And Co.
Company Background
Eli Lilly And Co (NYSE: LLY) discover, develop, manufactures, and markets pharmaceutical products worldwide. It offers endocrinology products for diabetes; osteoporosis in postmenopausal women and men; and human growth hormone deficiency and pediatric growth conditions. The company also provides neuroscience products for treating the depressive disorder, diabetic peripheral neuropathic pain, anxiety disorder, fibromyalgia, and chronic musculoskeletal pain; migraine and episodic cluster headache; attention-deficit hyperactivity disorder; and schizophrenia.
Image Source: Pixabay
In addition, it offers immunology products for the treatment of rheumatoid arthritis, plaque psoriasis, psoriatic arthritis, and ankylosing spondylitis; oncology products to treat non-small cell lung, colorectal, head and neck, pancreatic, metastatic breast, ovarian, bladder, and metastatic gastric cancers, as well as malignant pleural mesothelioma; and products to treat erectile dysfunction and benign prostatic hyperplasia. Eli Lilly has an agreement with Junshi Biosciences to co-develop therapeutic antibodies for the potential prevention and treatment of COVID-19, the disease caused by the SARS-CoV-2 novel coronavirus.
(Click on image to enlarge)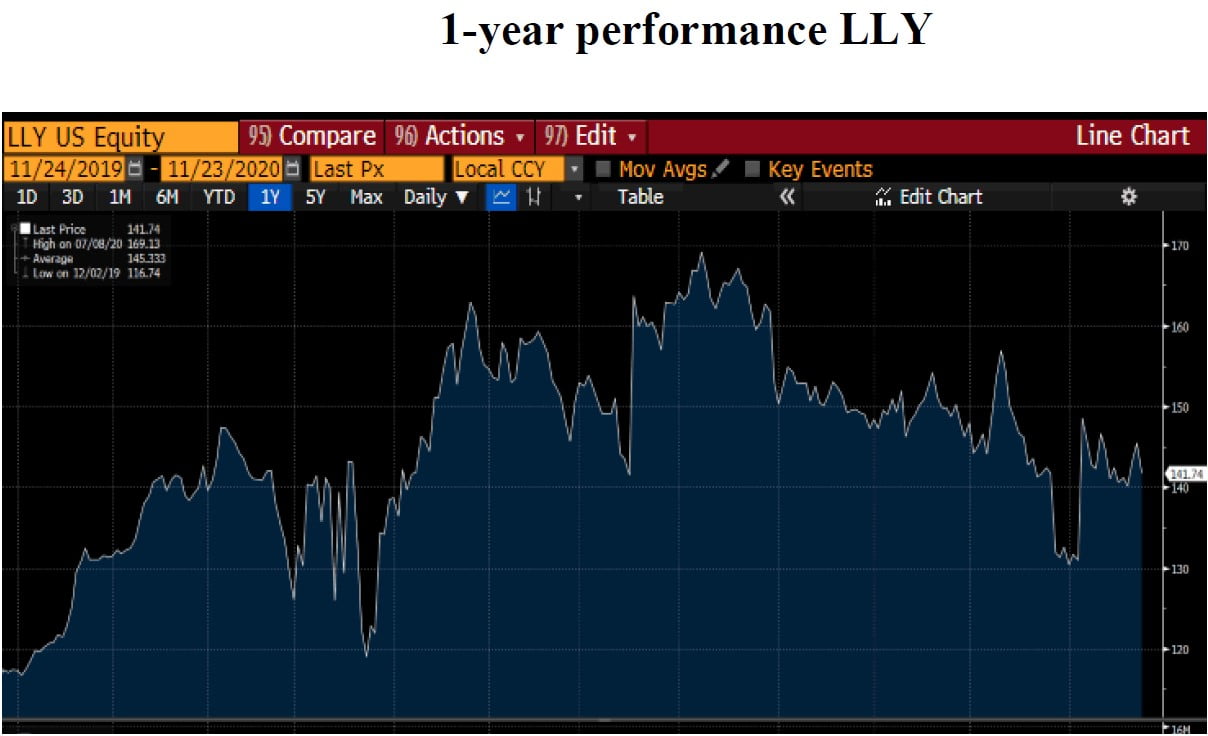 (Click on image to enlarge)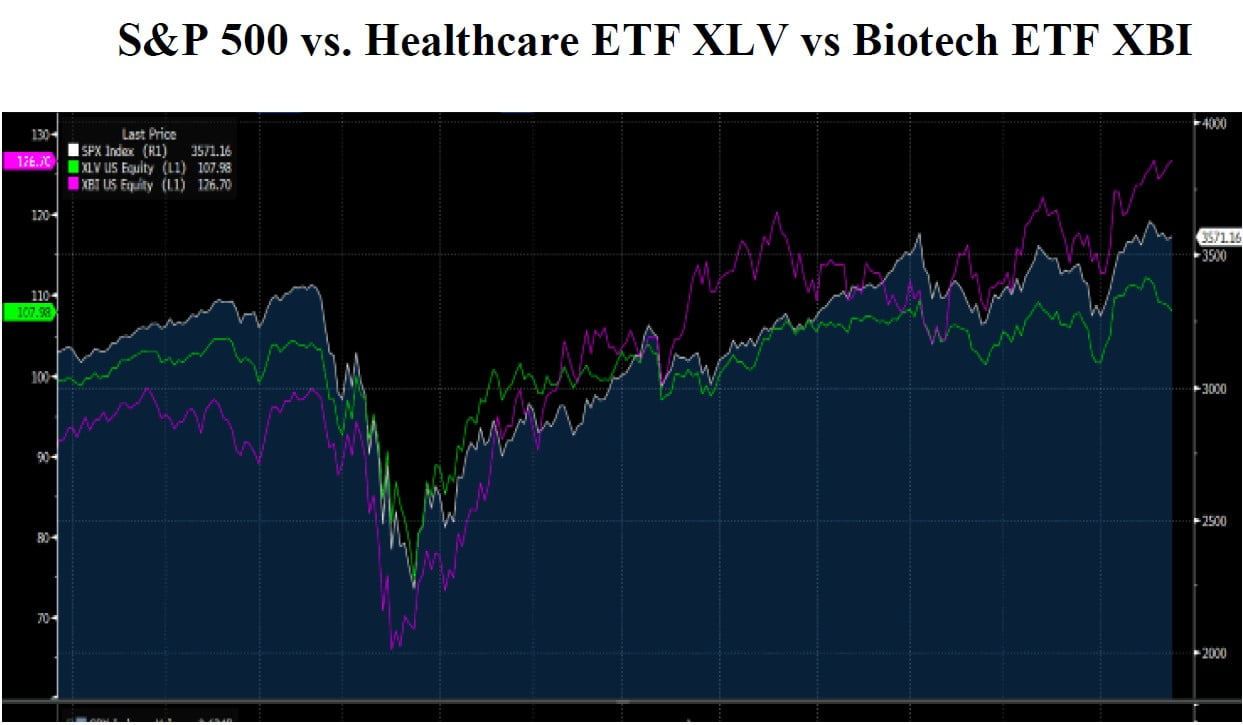 Investment Thesis
I am recommending the investment of Eli Lilly & Company with a BUY rating of $184.05 for a potential upside of 25.39%. The current pandemic has driven a wide variety of demands for the healthcare sector, with the addition of telehealth. The healthcare sector is one of the fastest-growing ones in the world. They are one of 2 companies to receive FDA approval for their antibody drug. For over 135 years they have had a strong commitment to developing and discovering new drugs in the areas of diabetes, neuroscience, cardiovascular diseases and oncology. They have a vision to make a significant contribution to humanity by improving global health in the 21st century, with a pipeline of over 2 dozen products.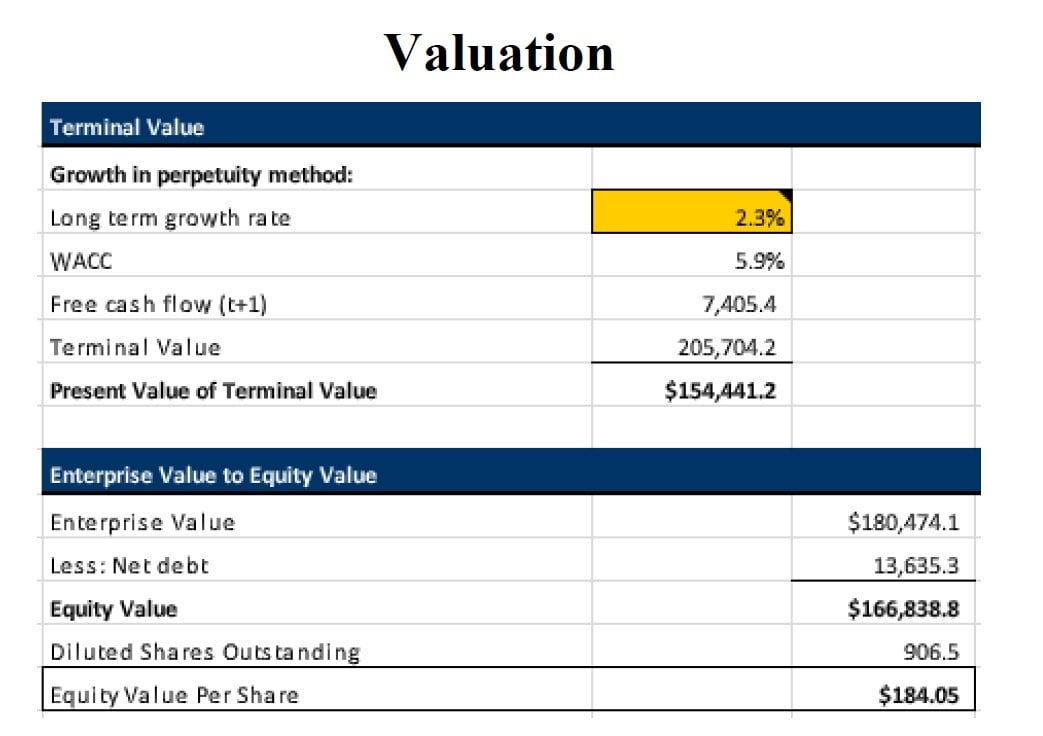 Company Information/Business Description
Lilly was founded in 1876 by Colonel Eli Lilly, a man committed to creating high-quality medicines that met real needs in an era of unreliable elixirs peddled by questionable characters. His charge to the generations of employees who have followed was this: "Take what you find here and make it better and better." More than 140 years later, we remain committed to his vision through every aspect of our business and the people we serve starting with those who take our medicines and extending to health care professionals, employees, and the communities in which we live. Lilly's values include integrity, excellence, and respect for people.

The table above represents the % of revenue generated by each geographic location. Over 57% of revenue has come from the U.S. After they spun off their animal health department to create Elanco Animal Health, their Human Pharmaceutical revenue went from 86.5% of revenue to 100%, with the remaining 13.5% being in their Animal health department. Eli Lilly has 1 business segment – Human Pharmaceutical. The pharmaceutical category includes endocrinology, oncology, immunology, neuroscience, & others. In the past year, revenue in Endocrinology increased 10% by Trulicity, Basaglar, and Jardiance. Taltz drove the 57% increase in immunology. Oncology increased 8% due to Verzino launching in the U.S. Neuroscience had a 5% decrease due to the lower volume of Strattera due to a loss of patent protection, which was mostly offset by the launch of Emgality. Other pharmaceuticals decreased 47% due to lower volumes for Cialis, due to patent losses.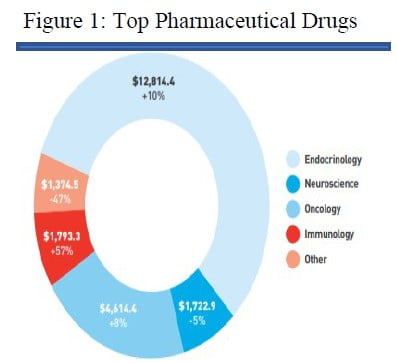 COVID-19
In November, Eli Lilly was the second company to receive FDA approval for their antibody drug, Bamlanivimab. The drug will be distributed to AmerisourceBergen, a national distributor, who will distributing it to the states, as a part of Operation Time Warp. The U.S. Government will be buying 300,000 doses of the drug, with an option to purchase at least another 650,000 before June. They are providing this drug to those who need it for free, while their competitors are charging for it. The drug doesn't need low temperatures for transportation. They are also requesting FDA approval for their 2-nd antibody drug, which will work alongside Gilead's Remdesivir.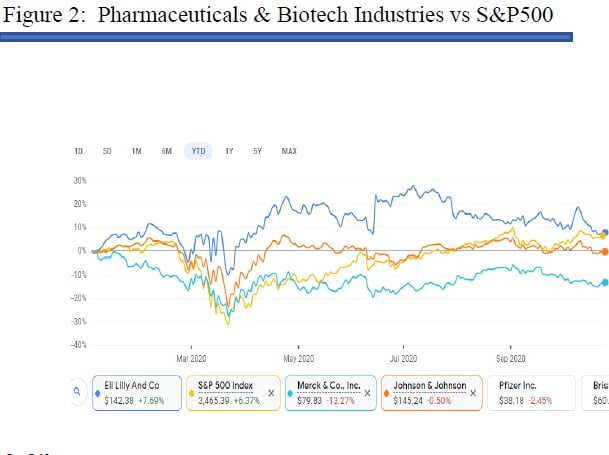 Industry Overview & Competitive Positioning
Eli Lilly & Company operates in the Pharmaceuticals & Biotechnology industry, which is part of the Healthcare sector. It includes companies engaged in the research, development, or production of pharmaceuticals, and companies engaged in the research, development, manufacturing, and/or marketing of products based on genetic analysis and engineering... In general, the performance of this industry tends to perform well during a recession. With the Coronavirus Pandemic, less people are going to doctors and or hospitals to require drugs. As people start going back to the doctor along with telehealth, healthcare will continue to increase. With all of the companies racing towards a vaccine, who will be working on the next up and coming thing.
Eli Lilly's main source of income comes from the United States, where it generates more than 57% of its revenue. The rest is coming from Europe Rest of the world, and Japan. With 57% of the market share in North America, Eli Lilly has a huge presence in the pharmaceuticals & biotechnology industry.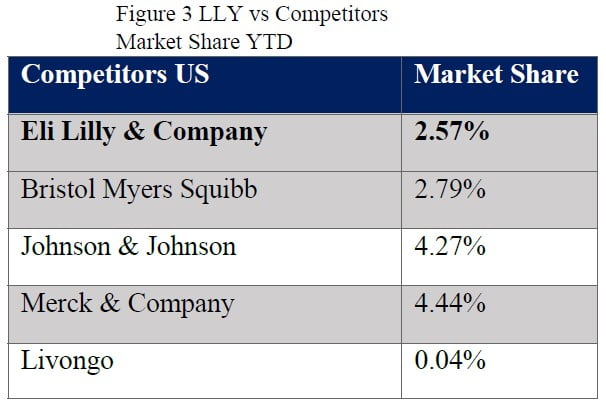 With population age increasing, there is an increase in demand for healthcare. The U.S. industry for healthcare is expected to grow at an average of 7% for the next 5 years, making it one of the fastest-growing industries worldwide. Companies like UNH and CVS Healthcare have the largest % of the market cap. The highest health spending includes private health insurance, Medicare/Medicaid, and out-of-pocket. With the internet of things becoming more popular, it will reduce the costs and the burden on the healthcare system. Telehealth is becoming more popular, making healthcare simpler and more automated to add convenience. This includes healthcare analytics. With telehealth, people don't have to actually visit a doctor's office to get answers to their questions. An aging global population will demand more extensive drug treatments and medical care. Prices continue to rise and so do the possibilities for higher dividend payments, share-enhancing stock buybacks, as well as Mergers and Acquisitions.
Management & Governance
Building on their 3 fundamental values, Lilly embraces the principles of good corporate governance through a strong, independent, and diverse board of directors. They have sought to implement the best governance practices. They want to earn investors' confidence, and not force it. They will provide clear, consistent, and truthful communication about their performance.
David A. Hicks, Chairman, and CEO of Eli Lilly & Company.
David A. Hicks received his Bachelor of Science from Purdue University in 1990, as well as his MBA from Indiana University in 1996. After receiving his MBA, he joined Lilly in 1996 as a business development associate. He was selected to be the general manager of Lilly Canada from 2005-2009, while branching out to be the President and General Manager of their Chana department in 2009. He then switched over to the USA for 2009-2012. After that, he served as the president of Biomedicines from 2012-2016, while finally becoming the chairman and CEO since July 2017. As well as being involved in Lilly, Dave is on the boards of Adobe and the Pharmaceutical Research and Manufacturers of America; he is chairman-elect for PhRMA. He also serves on the board of the Central Indiana Corporate Partnership. Dave is president of the International Fe der action of Pharmaceutical Manufacturers & Associations (IFPMA). He is a member of The Business Council, the Business Roundtable, and chairs the Riley Children's Foundation's board of governors
Catalyst And Events
COVID 19 Antibody Trial: On March 12th, it was announced that AbCellera and Lilly would co-develop Antibody therapies for the treatment of COVID 19. On June 8th, they announced the start of a Phase 1 study for their second antibody treatment. On October 7th, they filed for emergency use authorization of their first antibody drug. On October 13th, it was paused.
On November 20th, they requested FDA approval for their 2nd antibody drug, to partner with Gilead's Remdesivir.
In November, they received the FDA approval for their antibody drug, Bamlanivimab. This drug shows improvements for those with mild to moderate cases of COVID-19, who do not need any hospitalization. They are 1 of the 2 companies with FDA approval. This drug will be provided for free for those who need it.
On October 20th, acquired Disarm Therapeutics for $135M
In March, FDA granted breakthrough therapy designation to baricitnib for the treatment of alopecia areata, an autoimmune disease that causes hair loss. There is currently no cure for any of the alopecia diseases.
Lilly & Dexcom partner on diabetes management for healthcare. Lilly already earns 13% of the diabetes market.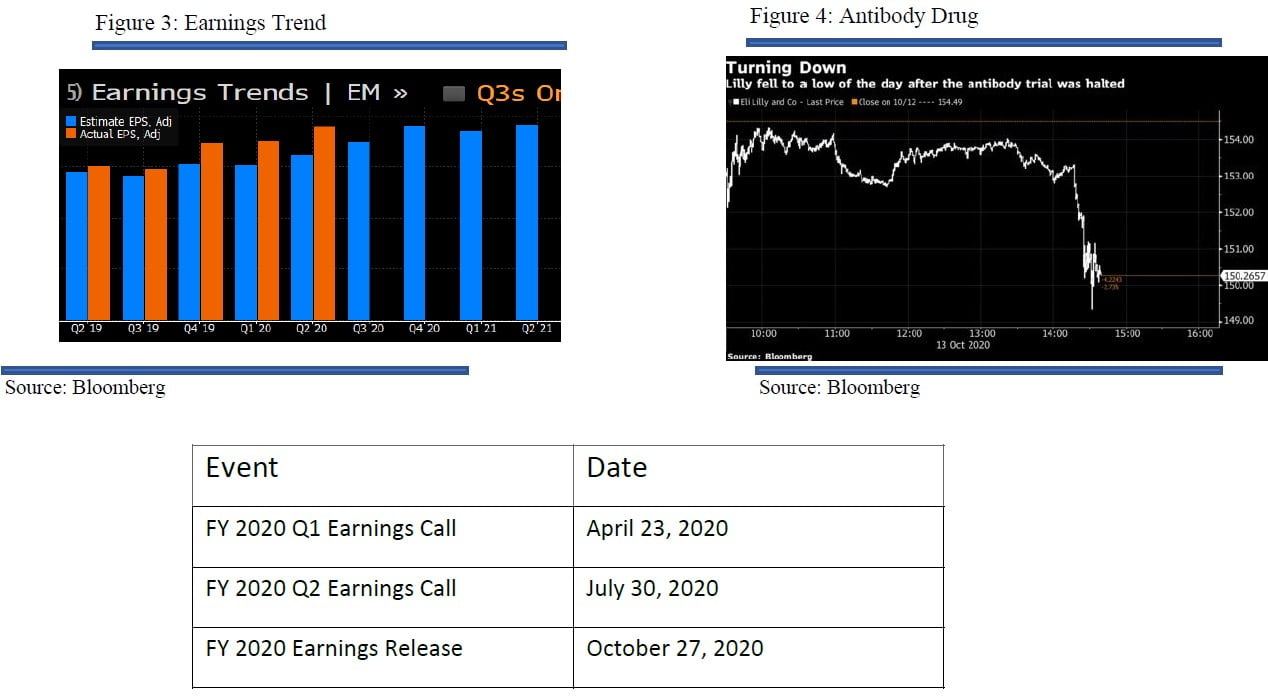 Investment Risk
Dedication to develop and acquire innovative pharmaceutical products for diseases that currently have no cure including alopecia areata. There is a chance that someone else will come up with the cure first.
Top-performing pharmaceutical company while reinvesting the most money into research and development. If companies acquire other companies, they will have more money to invest in their products.
They currently own 13% of the diabetes market, and with the aging demographic, we expect more people to need diabetes care. What if our projections on those who get diabetes is incorrect, or the diabetes drugs stop working?
Introducing a range of generic drugs cheaper than competitors, and a strong performance for cancer drugs. If other companies can produce drugs cheaper, then no one will purchase Eli Lilly's.
Working on 2 different COVID-19 antibody drugs. One is for those with mild to moderate cases who were not hospitalized, and one is for those with more severe cases who are hospitalized. If other companies come out with a vaccine and/or antibody drug that is faster and better, then no one will want to use theirs. Also, as seen as when they paused their first antibody drug trial, if their drugs don't work, their stock price will continue to drop dramatically.
Patents: If other companies come up with generic drugs first and patent them, then Eli Lilly will have to stop producing those drugs for a minimum of 20 years.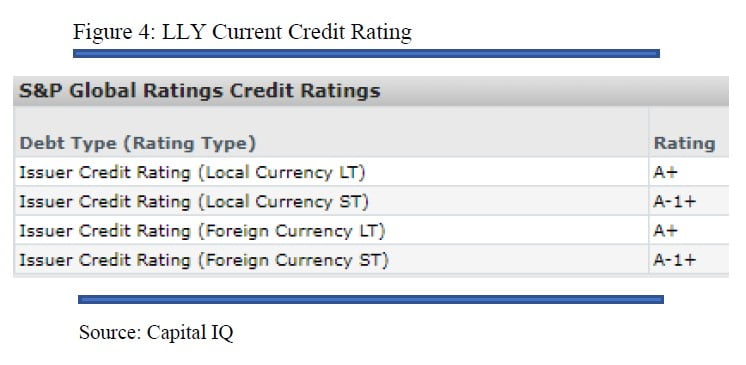 Valuation - Discounted Cash Flow
(Click on images to enlarge)