US Stocks Hold Gains As Yellen's Global Minimum Tax Gains Support From EU, IMF
WHO PAYS THE BILL?
US stock markets have started April and 2Q'21 on strong footing, bolstered by a litany of factors beyond the improving US economy: the Biden administration's fiscal stimulus plan; the Federal Reserve's ongoing regime of low interest rates and cheap liquidity; and strong seasonal factors.
But just as the economic party is getting started, US fiscal authorities are beginning to think about moderating the punchbowl to, in a sense, help pay for the cost of the party: by raising corporate taxes and for income earners making $400,000 or more per year. Markets care far more about the former of the two, insofar as increased corporate tax rates can have a negative impact on the bottom line in the form of reduced earnings.
WHAT CHANGED IN RECENT YEARS?
In recent years, under the Trump administration and a Republican majority in the House and the Senate, the 2017 Tax Cuts and Jobs Act reduced the corporate tax rate from 35% to 21% in hopes of spurring economic growth. One of the secondary objectives of the legislation was to increase American competitiveness as a location for corporations to domicile their tax base after a slew of American-founded companies redomiciled abroad vis-à-vis "tax inversions," e.g. the merger of Pfizer and Allergen. In other words, a secondary goal was to stop the "race to the bottom" by getting closer to the bottom itself.
Now, under the Biden administration and a Democratic majority in the House and the Senate, policymakers in Washington, D.C. are seeking to raise the corporate tax rate from 21%. Where to though? President Joe Biden himself has floated a 28% corporate tax rate. The influential West Virginian Senator Joe Manchin has suggested 25%. However, all of these initial discussion may be dead-ends if US Treasury Secretary has her way.
GLOBAL AVERAGE CORPORATE TAX RATE (1947 TO 2020) (CHART 1)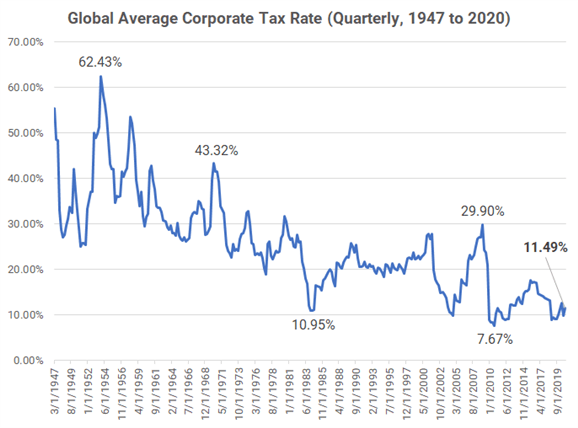 EU, IMF, OECD, YELLEN IN AGREEMENT
For years, the OECD has led a global effort (more than 140 countries in synchrony) to end the "race to the bottom" in corporate tax rates, with a recent push to have a framework in place sometime in 2021. This context makes what happened at the start of this week all the more interesting.