U.S. Manufacturing Thriving Amid Supply Bottleneck: 5 Picks
Most of the businesses that were closed due to lockdowns have reopened with new social distancing norms. These positives have strengthened the forward-looking sentiments of manufacturers.
As U.S. and major global economies reopen, the manufacturing sector should strengthen as export demand for high-tech manufacturing products of the country will likely increase.
The Fed has decided to keep the benchmark interest rate as low as 0-0.25% for a longer period. A low-interest rate will significantly reduce the cost of capital and make U.S. currency cheaper in the foreign exchange market, making the country's products more competitively priced.
Despite the elimination of government stimulus, consumer spending rose 0.5% in April, in line with the consensus estimate, after jumping to an upwardly revised 4.7% in March.
Notably, Americans saved a historic high of around $2.3 trillion during lockdowns. This should be the key driver of demand that was pent up despite the systematic termination of government or Fed stimulus.
Our Top Picks
At this stage, it will be prudent to invest in manufacturing stocks with a favorable Zacks Rank. We have narrowed down our search to five stocks with strong growth potential for 2021 that have witnessed robust earnings estimate revisions within the last 30 days.
Moreover, these companies are regular dividend payers and will act as an income stream during the market's downturn. Each of our picks carries a Zacks Rank #2 (Buy).
The chart below shows the price performance of our five picks year to date.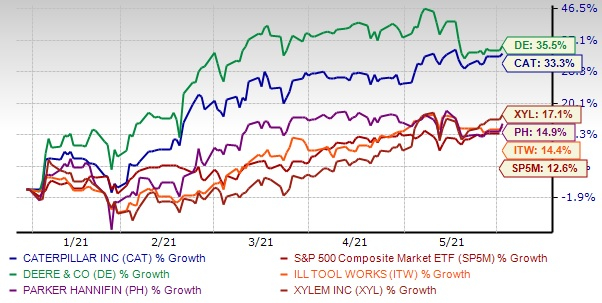 Image Source: Zacks Investment Research
Deere & Co. (DE Quick Quote DE - Free Report) manufactures and distributes farm equipment worldwide. It operates through three segments: Agriculture and Turf, Construction and Forestry, and Financial Services.
The company has an expected earnings growth rate of more than 100% for the current year (ending October 2021). The Zacks Consensus Estimate for current-year earnings has improved 3.7% over the last 7 days. The stock has a current dividend yield of 1% and soared 35.5% year to date.
Disclaimer: Neither Zacks Investment Research, Inc. nor its Information Providers can guarantee the accuracy, completeness, timeliness, or correct sequencing of any of the Information on the Web ...
more