EC

Updating The Coming Pipeline Cash Gusher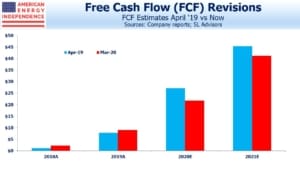 EPD stands out in significantly increasing their growth capex – most companies have made only modest changes, although ET raised their capex guidance too, partly because of their acquisition of Semgroup.
For 2021, Kinder Morgan (KMI) and ENB each raised growth capex by $1BN. So the $4BN drop in 2021 forecast FCF for the sector is largely because these two companies, along with EPD, have raised their spending plans.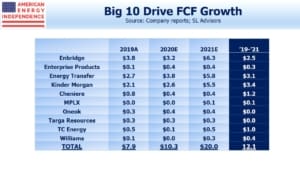 Nonetheless, some of the increases in FCF 2019-21 are big. Ten names will collectively increase FCF by $12 billion over this period. ENB and KMI could both add almost $3 billion apiece 2020-21.
Energy remains out of favor, with pundits like Jim Cramer dubbing it the "new tobacco" and some calling it "uninvestable". Climate extremists direct their anger at 80% of the world's energy supply with no practical solutions. Although it may sound as if investors are shunning stocks because of fear that public policy will harm their prospects, TRP and ENB both outperformed the S&P 500 last year. That these two were most of the sector's FCF suggests that explanations for poor stock performance are more driven by capital allocation. As FCF growth becomes more widespread, investors will find more to like.
The information provided is for informational purposes only and investors should determine for themselves whether a particular service or product is suitable for their investment needs. Graphs and ...
more