Unpopular Opinion: Facebook Is Undervalued
Facebook (FB) stock made new historical highs above $240 per share on June 10, 2020. At current prices, the company has a market capitalization value of over $670 billion, and few investors would consider such a well-known name to be undervalued. However, the market could be putting too much attention on the short-term challenges, while underestimating the long-term growth opportunities that Facebook has to offer.
Considering the company's fundamental strengths and growth prospects in different areas such as advertising, shopping, digital payments, and virtual reality, the current valuation levels look quite attractive for long-term investors in Facebook.
Fundamental Quality
Facebook has reached a gargantuan scale. The company has 2.36 billion daily active people across its different platforms as of March of 2020, which represents a 12% increase versus the same quarter in the prior year.
Financial performance in terms of both revenue growth and cash flow generation has been outstanding over time. The company reported a healthy increase of 18% in revenue last quarter, and while management did not provide any guidance due to the pandemic, it did note that revenue was stabilizing in April. The operating profit margin was 33% of revenue during the quarter, and Facebook ended the period with $60.3 billion in cash and investments on its balance sheet.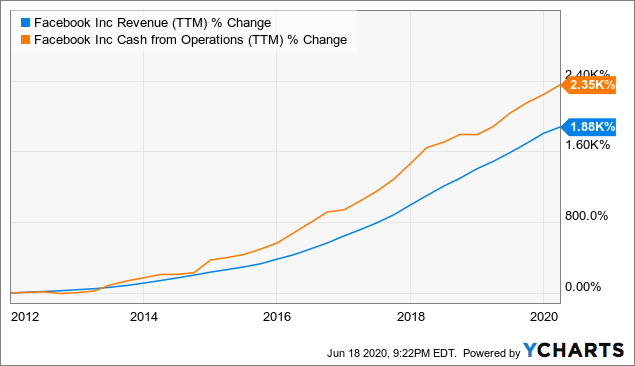 Data by YCharts
Going forward, the main Facebook platform is getting saturated, but the company still has plenty of room for growth with Instagram, and it is barely getting started with WhatsApp.
The average revenue per user is $41.41 in the U.S. and Canada, versus a much lower $8.52 on a global scale and a minuscule $2.48 in low-monetization regions. Just by bringing global monetization levels in different countries to levels more in line with those of the U.S., the company has plenty of room for sustained growth by increasing monetization.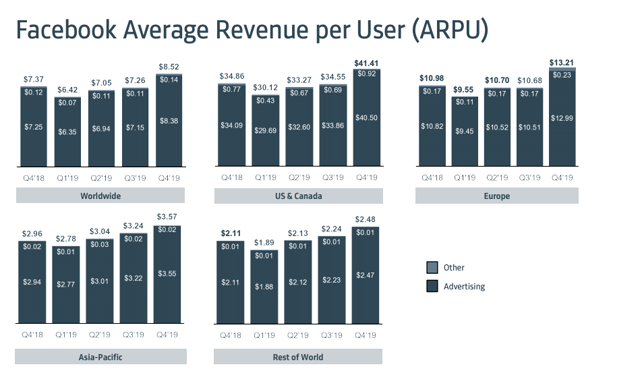 Source: Facebook
Even more interesting, the company is aggressively venturing into new areas with enormous potential in the years ahead. Shopping could be a remarkably valuable opportunity for Facebook, and the alliance with Shopify (SHOP) in combination with a larger focus on online shopping for Instagram could open the doors to massive growth venues.
WhatsApp is currently launching digital payments in Brazil, and Facebook has partnered with PayPal (PYPL) to invest in Gojek, the Indonesian ride-hailing, food delivery, shopping, and digital payments app.
In essence, Facebook has an enormous user base and practically unlimited financial resources. The company could relatively easily combine its different communications platforms and build both an online shopping platform and a digital payments platform on top of that gargantuan user base.
Disclosure: I am/we are long FB, PYPL.
Disclaimer: I wrote this article myself, and it expresses my own opinions. I am not receiving compensation for it. I have no business relationship ...
more