"Two Weeks That Changed The World": A Goldman Post-Mortem On "The Squeeze"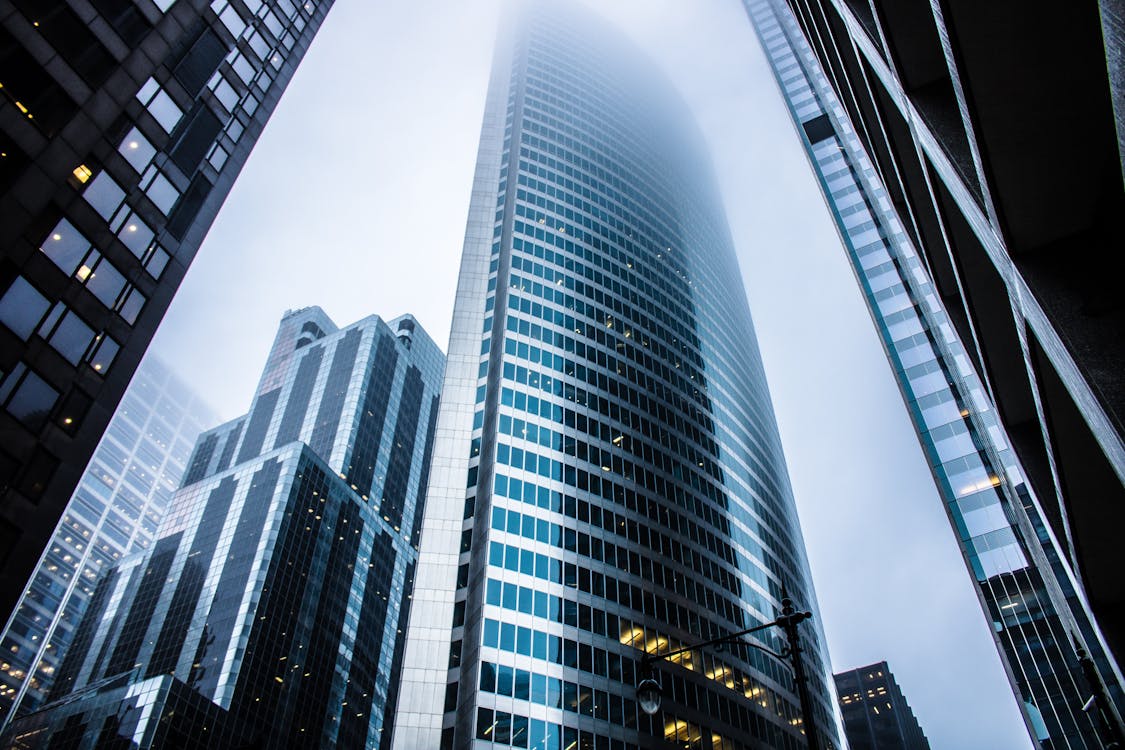 It was almost exactly three months ago, long before the Reddit short squeeze fireworks, when we were parsing through the latest quarterly Hedge Fund Tracker report from Goldman Sachs which famously breaks down the 50 most popular hedge fund long and short positions, when we repeated what we have said for much of the past decade:
... since it is the most shorted stocks that end to do far better than the most popular ones, especially during market-wide squeezes such as the one seen since March, here is also the list of 50 most-shorted stocks. As usual, our advice is to go long the most hated names and short the most popular ones - a strategy that has generated alpha without fail for the past 7 years, ever since we first recommended it back in 2013.
We said this on November 20, 2020, which we bring up because as everyone knows by now, what transpired since has been the biggest coordinated short squeeze in history, and anyone who listened to our advice and put on the abovementioned pair trade is now up some 40% in the past 3 months, an annualized return of over 160%.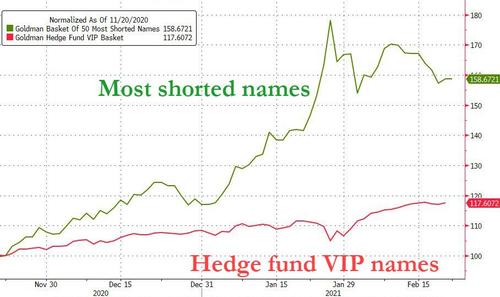 Actually, those who were reading us during this historic short squeeze melt-up may already have retired, because while many were chasing GameStop, one of our favorite squeeze trades was to go long a heavily shorted microcap, SRMX, as we revealed on Jan 27, and just two weeks later, SRMX was up 3,800%, double the peak performance of GameStop.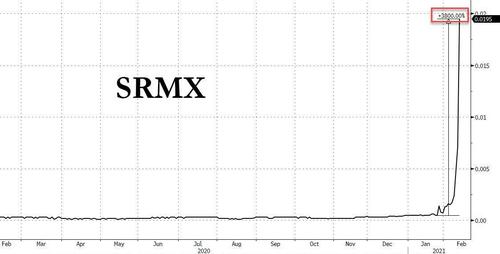 Yet while our readers profited handsomely from January's epic moves, in many cases generating historic returns, there were also just as many who had a terrible month: they are better known as hedge funds. And it is their plight that Goldman's latest Hedge Fund tracker focuses on.
What follows below will not be surprising or new to any of our readers, who were presented with front-row seats to the historic events as they unfolded in January and early February. Still, what Goldman's Ben Snider has done in his latest Hedge Fund Trend monitor (in which he analyzes the holdings of 820 hedge funds with $2.8 trillion in gross equity positions), is a good recap of some of the key catalysts and milestones behind what was to many financial professionals, two weeks that changed the world of finance starting with the January 22 breakout in Gamestop stock, and ending with the February 5 collapse in the most shorted names and the apparent return to normalcy.
As Snider writes, January's short squeeze showed the risk posed to both hedge fund returns and broad market performance by record leverage and a high degree of crowding, two factors (both the byproduct of years of "idea dinners") which we have repeatedly warned in the past would one day come and bite the hedge fund industry in the ass.
As we noted at the time:
hedge fund net leverage at all time high pic.twitter.com/zgtHwkuheD

— zerohedge (@zerohedge) December 7, 2020
Disclaimer: Copyright ©2009-2021 ZeroHedge.com/ABC Media, LTD; All Rights Reserved. Zero Hedge is intended for Mature Audiences. Familiarize yourself with our legal and use policies ...
more