TSLA Slides After Beating EPS, As All "Income" Coming From Reg Credits Sales; Sold $272MM In Bitcoin
As we previewed earlier, Wall Street expectations from TSLA's earnings today are rather stratospheric, but as Bloomberg notes, even if the company misses big, the S&P 500 likely won't be in the doldrums tomorrow because of it. Why? Simply put, the electric vehicle maker matters less than other high-profile stocks in the broad market gauge.
Alphabet, Amazon.com, Apple, Microsoft, and Tesla are among the most influential companies in the stock market. But by one simple measure, Tesla looks different than the others. The S&P 500's 30-day positive correlation with the stock has fallen to ~0.44 from an early March peak of almost 0.8. That pales in comparison with Microsoft at ~0.77, Apple at ~0.72, Amazon at ~0.68, and Alphabet at ~0.65. In fact, the S&P 500's correlation with old-school cyclical Caterpillar -- which also reports this week -- is higher than Tesla at ~0.51. This falling correlation is inevitable as Tesla has gained less than 5% this year compared with over 11% for the S&P 500, with value sectors such as energy and financials outperforming. This has happened as meme stocks like GameStop have pushed Tesla out of the limelight, while Bitcoin has attracted almost all the buzz.
With that in mind, here is what TSLA reported shortly after the close for Q1:
Adjusted EPS of 93C, beating est. 80c
Revenue $10.389BN, missing est. $10.42 billion (range $8.20 billion to $12.34 billion)
Free Cash Flow $293MM, beating est. of cash burn of $82.8 million
Automotive gross margin +26.5%, beating est +24.3%
Cash and cash equivalents $17.14 billion, missing estimates of $17.90 billion
The results visually:
(Click on image to enlarge)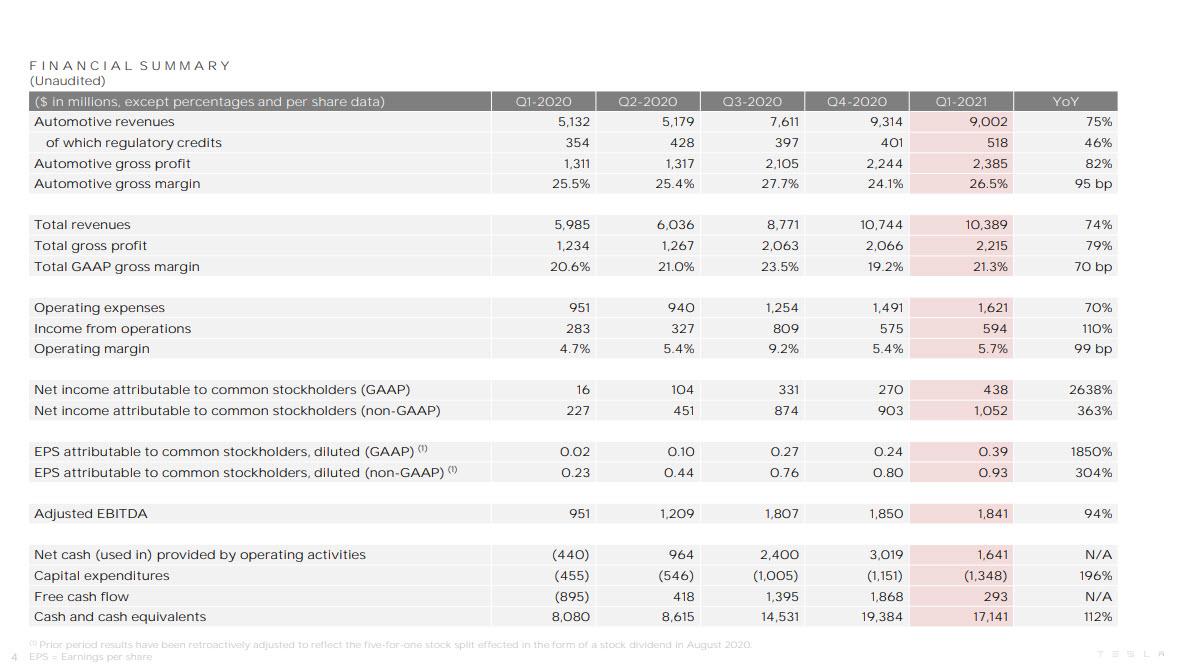 But here is the problem: TSLA reported $594MM in income from operations, but regulatory credits accounted for a whopping $518MM of it, the highest on record and up from $401MM in Q4 2020.
(Click on image to enlarge)
Disclaimer: Copyright ©2009-2021 ZeroHedge.com/ABC Media, LTD; All Rights Reserved. Zero Hedge is intended for Mature Audiences. Familiarize yourself with our legal and use policies every time ...
more