TransMedics Could Slump When IPO Lockup Expires
When the lockup period ends for TransMedics Group (TMDX) on October 29, pre-IPO shareholders and company insiders will have the opportunity to sell more than 14 million currently-restricted shares. The number of restricted shares dwarfs the 5.69 million shares offered in the IPO.
(Click on image to enlarge)

Significant sales of currently restricted stock could flood the secondary market when the lockup expires and send shares of TMDX sharply lower in the short term. We believe that pre-IPO shareholders and company insiders will be motivated to cash in on some of their profits - despite a sharp decline in share price over the past month; TMDX still has a return from IPO of nearly 14%.
The upcoming lockup expiration presents a short opportunity for aggressive, risk-tolerant investors to short shares ahead of the October 29th expiration.
Business Overview: Medical Technology Company Providing Solutions in Organ Transplants
TransMedics Group is a medical technology company in the commercial stage. Their solutions are for organ transplant therapy for patients at end-of-life across varying disease states. They developed their TransMedics Organ Care System (OCS) to improve standard care of donated organs. The OCS proprietary technology mimics many elements of an organ's natural functional environment once outside the body. The company believes that its OCS system provides a dynamic environment rather than the older therapies that rely on a static state. This is a significant change in organ preservation for transplanting. They believe that their system significantly improves organ assessment, optimization, and outcomes, and they have compiled a large body of clinical evidence to support their conclusions.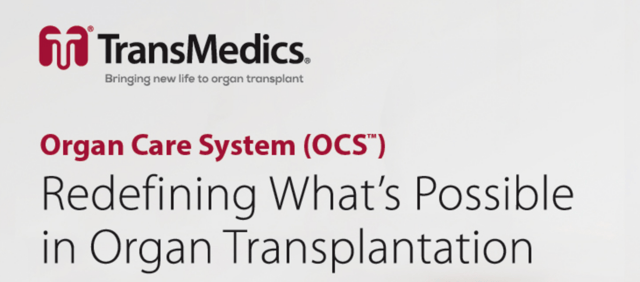 (Source: S-1/A)
TransMedics Group developed its system to address the limitations of the current standards of cold storage. The OCS is a portable system that replicates near-physiologic conditions necessary for donor organs to remain viable outside the body. The system provides donor organs with nutrient-enriched, oxygenated, and temperature-appropriate blood to maintain the organs in a living state, which means that a heart is beating, a lung continues breathing, and a liver continues to produce bile.
Disclosure: I am/we are short TMDX.
Disclaimer: I wrote this article myself, and it expresses my own opinions. I am not receiving compensation for it. I have no business relationship with any ...
more