Tradeweb Markets - Stock Of The Day
Summary
100% technical buy signals.
16 new highs and up 13.65% in the last month.
41.15% gain in the last year.
The Barchart Chart of the Day belongs to the financial services company Tradeweb Markets (Nasdaq: TW). I found the stock by using Barchart's powerful screening tools to find the stocks with the highest Weighted Alpha and technical buy signals. After I sorted for the most frequent number of new highs in the last month, I used the Flipchart feature to review the charts for consistent prices appreciation. Since the Trend Spotter signaled a buy on 2/9 the stock gained 7.34%.
Tradeweb Markets Inc. builds and operates electronic marketplaces in the United States, Europe, Asia, and internationally. The company's marketplaces facilitate trading in a range of asset classes, including rates, credit, money markets, and equities. It offers pre-trade data and analytics, trade execution, and trade processing, as well as post-trade data, analytics, and reporting services. The company provides flexible order and trading systems to institutional investors in 40 markets across 25 currencies. It also offers a range of electronic, voice, and hybrid platforms to approximately 300 dealers and financial institutions on electronic or hybrid markets with Dealerweb platform; and trading solutions for financial advisory companies and traders with Tradeweb Direct platform. The company serves a network of approximately 2,500 clients in the institutional, wholesale, and retail client sectors. Its customers include asset managers, hedge funds, insurance companies, central banks, banks and dealers, proprietary trading firms, retail brokerage, and financial advisory firms, and regional dealers. The company was founded in 1996 and is headquartered in New York, New York. Tradeweb Markets Inc. is a subsidiary of BCP York Holdings.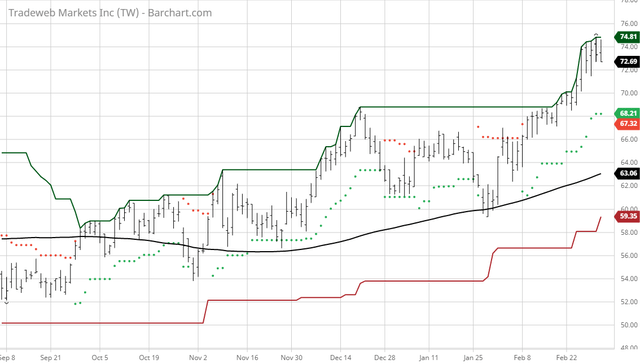 Barchart technical indicators:
100% technical buy signals
52.81+ Weighted Alpha
41.15% gain in the last year
Trend Spotter buy signal
Above its 20, 50 and 100 day moving averages
16 new highs and up 13.65% in the last month
Relative Strength Index 67.12%
Technical support level at 72.40
Recently traded at 72.70 with a 50 moving average of 66.02
Disclosure: The Barchart Chart of the Day highlights stocks that are experiencing exceptional current price appreciation. They are not intended to be buy recommendations as these stock are ...
more