Top Retail Stocks To Watch Ahead Of Black Friday
THE HOLIDAY SEASON AND ITS IMPLICATIONS FOR GLOBAL GROWTH AND RETAIL STOCK INVESTORS
With the holiday season fast approaching, US consumers will look to open their wallets and spend their hard-earned cash on a wide array of products. On Black Friday alone, consumers are expected to spend more than $6 billion, taking advantage of very accommodative discounts. In the weeks to follow until Christmas, about 20% of annual retail sales will be tallied according to the National Retail Federation.
In 2018, Black Friday spending cruised to a record-high $6.2 billion, but traffic has begun to weaken in recent years and retail sales headed into the holiday season this year have slipped – creating concern that spending may not live up to the growth witnessed in previous seasons.
(Click on image to enlarge)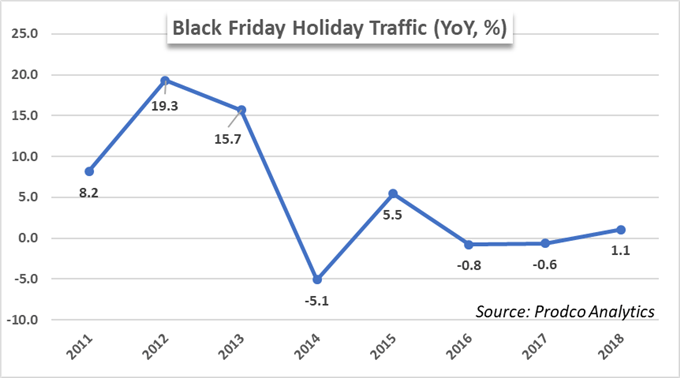 Since consumer spending accounts for more than two-thirds of the US economy, a weak holiday season can cast doubt on the health of the sector and that of the broader economy. Investors have recently expressed fear over global growth concerns, and an underwhelming sales tally among US retailers would likely reignite those fears. That being said, there is data to suggest that while consumer's tastes may have shifted, sales could prove encouraging nonetheless.
(Click on image to enlarge)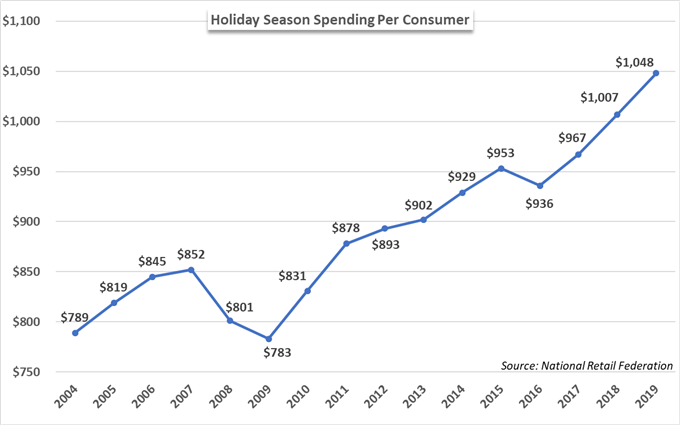 Most notably, the rise of Cyber Monday has worked to erode Black Friday's dominance as shoppers take to the internet to complete their purchases from the comfort of their own home. Evidenced by recent trends in consumer spending and this year's holiday season spending forecasts from a variety of sources, online shopping has overtaken in-store shopping and will continue to outpace traditional sales. Therefore, while the optics on Black Friday look somewhat bleak, the broader holiday season could be on pace for another record-setting year, bolstered by Alibaba's incredible Singles Day total of $38 billion.
Expected retail spending during Black Friday