Three Strong Buys Trading For Under $10
After reviewing the company's most recent quarterly financial statements, it is possible that reduced inventory levels and accounts receivables mean EVLV is enjoying positive pricing power. Additionally, Cost of Sales (CoS) dropped substantially quarter over quarter (QoQ), to 29.6% of revenue from 35.3%.
It's not a stretch to connect cluster buying and seemingly improving financials to better than forecasted results for EVLV. Better results typically lead to a better stocks price. Considering the 52-week high of $6.54, the digital commerce company has plenty of headroom.
Bazaarvoice Inc. (Nasdaq:BV) – This Guy has his Finger on BV's Pulse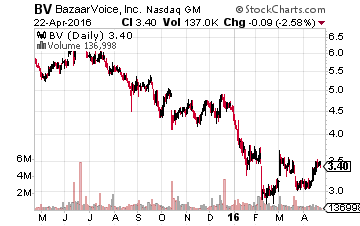 The last of the trio operates as a network that connects brands and retailers to the voices of people where they shop. It provides its solutions through Bazaarvoice conversations, a Software as a Service platform, which enables clients to capture, manage, and display online consumer-generated content, including ratings and reviews, questions and answers, among a list of other uses – no need to bore you.
The attention-grabbing insider transaction for BV belongs to Marc Cannon, Executive VP, Client Services. He is the management member with the pulse of the company's customers.
Now, a $31,000 buy doesn't seem like much, but it is Cannon's previous trades that bring his name into this article. His only other transactions – besides exercising options – were sells in January and June of 2015.
The first time he unloaded the stock it was trading at $8.34 and the second time around at $6.21. You see where the stock is today. Needless to say, the VP apparently has his finger on the pulse of BV future share price.
One might speculate that some fat, new contracts might be on the way and with it a higher stock price, considering Cannon's position and previous activity.
Recently, Tim Plaehn, income expert with Investors Alley, met with the CEO of one of America's fastest growing specialty banks, and what he told me just blew me away.
Disclosure: You could collect an average of $3,268 in extra monthly cash with ...
more